Introduction
In MacBook, the printer driver accepts "Locked print" only. For configuration in Macintosh, different programs may have different interface.
Printer List
#
Location
Name
Hostname
1
3/F

Multimedia Commons

L303P
L303P.lib.polyu.edu.hk
2
L303Q
L303Q.lib.polyu.edu.hk
3
P/F Reading Area

L203A
L203A.lib.polyu.edu.hk
4
L203B
L203B.lib.polyu.edu.hk
5
1/F South Wing
L114A
L114A.lib.polyu.edu.hk
6
1/F North Wing
L115A
L115A.lib.polyu.edu.hk
7
G/F Group Study Zone 1
L019A
L019A.lib.polyu.edu.hk
8
L019B
L019B.lib.polyu.edu.hk
9
L019C
L019C.lib.polyu.edu.hk
10
L019D
L019D.lib.polyu.edu.hk
11
Quiet Study Zone 1
L010A
L010A.lib.polyu.edu.hk
12
24-hour study Centre
L001F
L001F.lib.polyu.edu.hk
Download driver
Please click the following button to download the driver before installation.
Installation
Download the driver from Library homepage.
Double click "Ricoh_MP_..._LIO_Driver.pkg"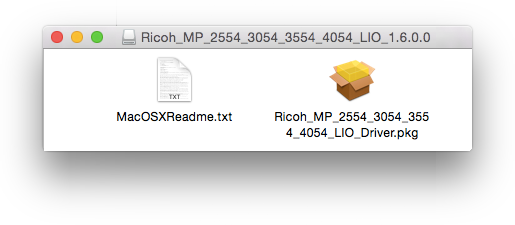 Click "Continue" > "Continue" > "Agree" > "Install"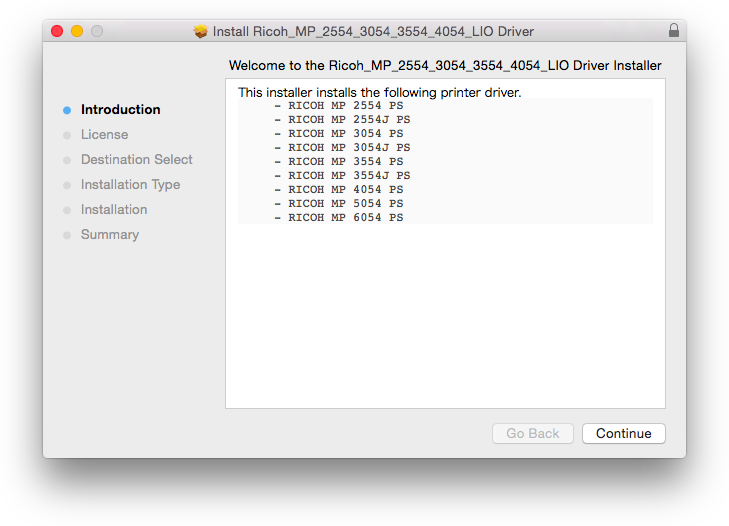 Input your MacBook's account password for installation and click "OK"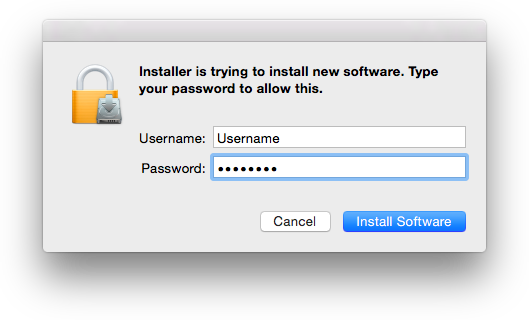 Click "Close" to complete printer driver installation.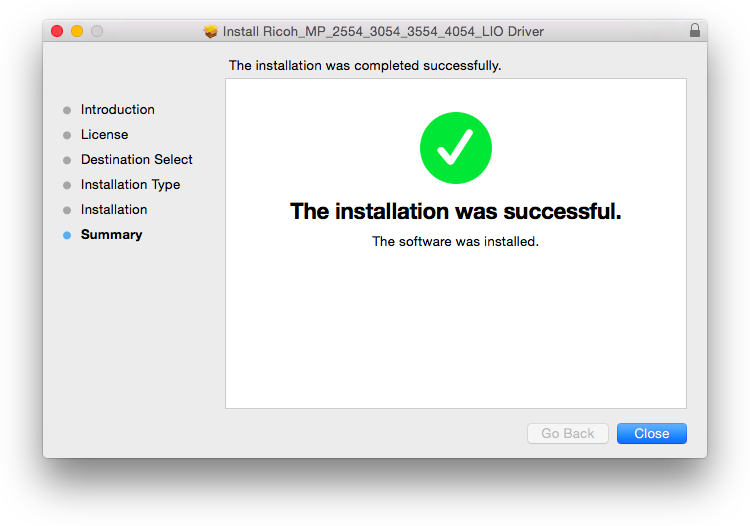 Create printer
Follow the steps to create a printer
Click the "Apple Icon" on the upper left corner and click "System Preferences"



Click "IP" and Input the following information:
Address:
Please refer to printer list on top of the this page.
Example: L301A.lib.polyu.edu.hk
Protocol:
Line Printer Daemon - LPD
Name:
L301A.lib.polyu.edu.hk (optional)
Location:
L301(B&W) (optional)
Use
RICOH MP 5054 PS
Click "Add"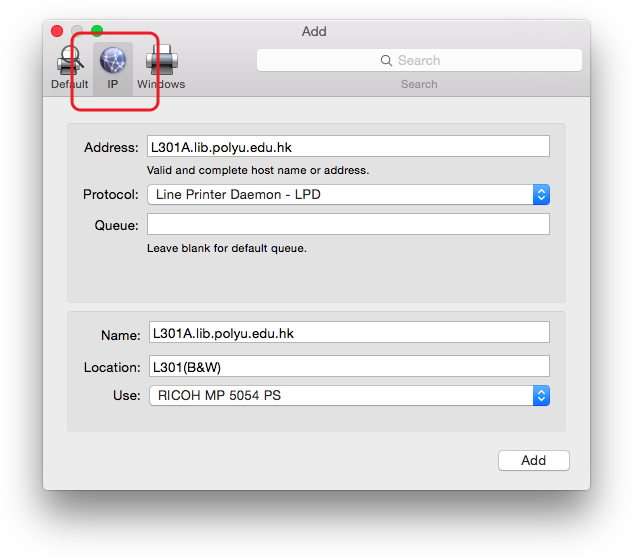 The printer installation is completed. Please repeat these steps for another printer installation.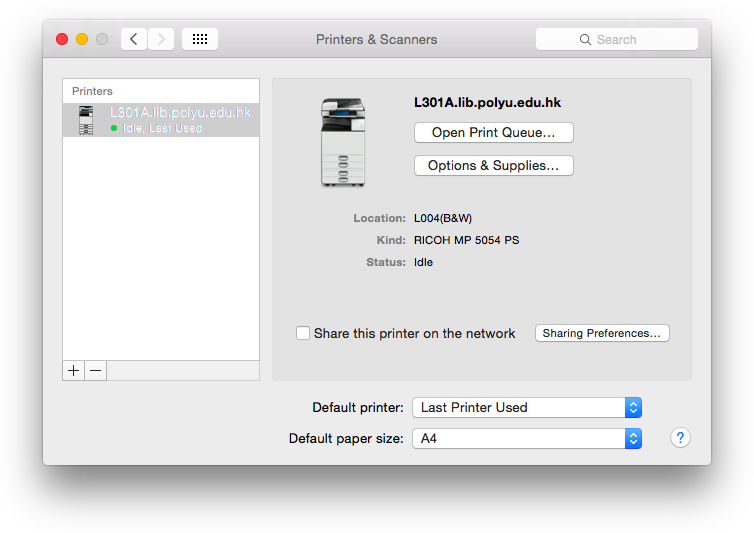 Create printing profile
This settings will create a profile for other software printing.
Open your document to print.
(E.g. Open a PDF file with the default "Preview" app)
File > Print
From the printing dialog, click "Show Details"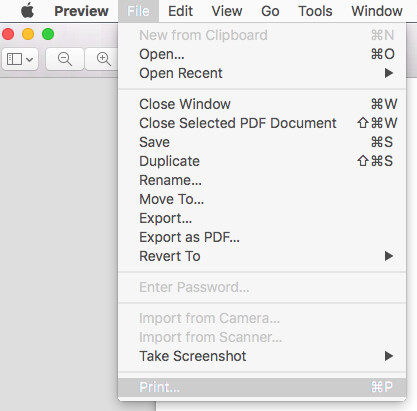 Select your preferred settings.
Two-Sided

(Optional)
Select "Job Log" #1

(Mandatory)
User ID: <Your prefer User ID>

(Mandatory)

*4-8 alphanumeric characters
Job Type: "Locked Print"

(Mandatory)

*The printer accept "Locked Print" only.
Password: ********

(Mandatory)

4-8 digits
#1 If "Job Log" is not available from the list, please start again from step 1 using a different application (e.g. Microsoft Word).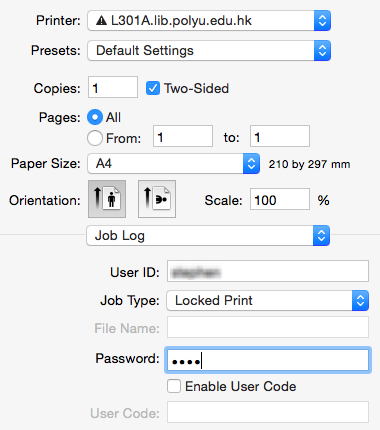 Save your selection as "Presets".
Presets > Save Current Settings as Preset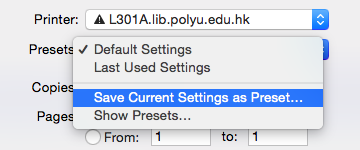 Before print, "Presets" need to be selected.