Entrance and Exit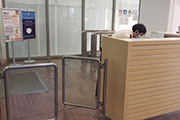 All disabled library users may gain immediate admittance to the Library without waiting in the queue outside the Library. A separate exit is available for wheelchair users.
Service Priority
Access of the Library can be arranged for assistants of students with special educational needs. On their behalf, the assistants can look up and check out Library materials for the students. Please contact the Section Head of Access Services (2766 7884) for details. Disabled users will be given priority at all service points. Library staff are always happy to assist in completing any necessary library procedures.
Special Trolleys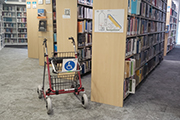 Trolleys for carrying books for those who are on elbow crutches are available on each floor of the Library.
Designated Seats
Seats designated for the use of the physically disabled are available on all floors.
Special Equipment Room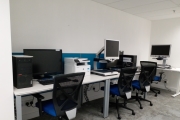 A Special Equipment Room is located on the Fourth Floor (Room L401a). It is equipped with special personal computers, powerbraille, scanners, magnifying devices, speech synthesizer software and scanning & reading appliance for students with disability.
Please register at Student Affairs Office (Tel: 2766 6800, Email: sen@polyu.edu.hk) for using the room and facilities there. After registration, students could gain access to the room by simply tapping their Student ID card to the smart card reader.