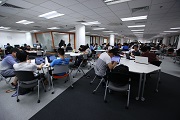 The 24-Hour Study Centre opens around the clock* on the Library G/F for users who wish to work collaboratively. Please keep your discussions to low voice and be considerate to other users. After Library closes, the Centre is accessible via the Core E entrance, and users are required to tap their PolyU staff / student ID cards at the smart card reader at room entrance for entry.
Since its renovation in 2014, the 24-hour Study Room has been expanded and now provides eleven Project Rooms for group discussions. Users can reserve these rooms one day in advance via the iBooking System for use during Library opening hours. After Library closes, the rooms are available on first-come-first-served basis. For details, please refer to the webpage on G/F Project Rooms.
The Centre is also equipped with thirty multi-purpose PC workstations (with Microsoft Office applications) and one photocopier / printer.
* To prepare the Centre for overnight access, it will be closed 30 minutes before the Library closes.
* The 24-Hour Study Centre will be closed when typhoon signal No.8 or above is hoisted.