Group Viewing Rooms
Current PolyU students, faculty and staff may borrow a set of all-in-one video conference camera from the Multimedia Commons Counter (3/F) and use it in a group viewing room in Multimedia Commons (3/F) for video conferencing. Group viewing rooms can be reserved via the Library's iBooking system.
All-in-one Video Conference Camera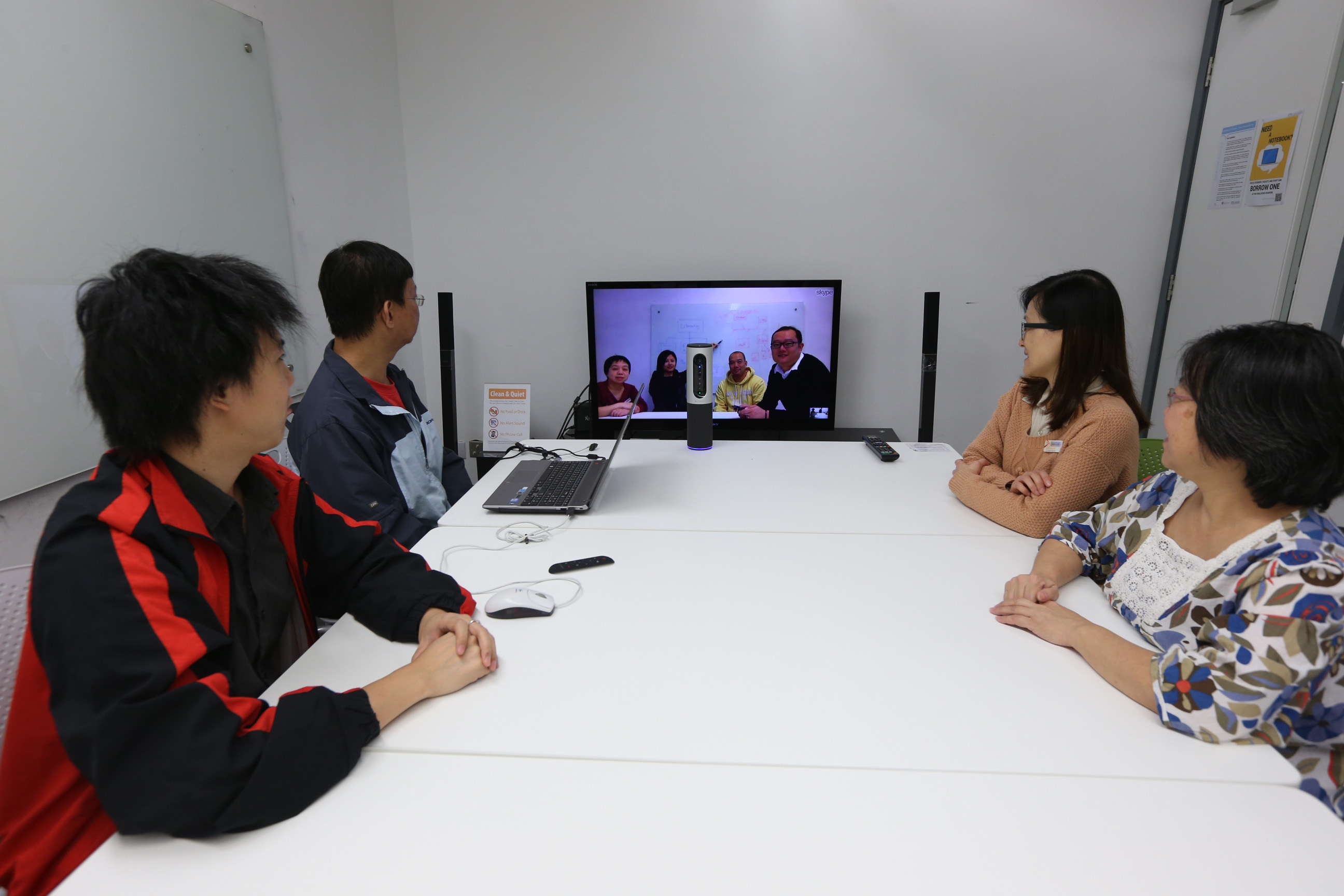 Equipment for Loan: Logitech ConferenceCam Connect
Who can borrow? Current PolyU students, faculty and staff with a Library account in good standing, and who accept and sign the "Loan Agreement for Video Conference Camera" Form, and have a valid booking of a Group Viewing Room at 3/F Multimedia Commons.

Minimum no. of Users: Small group of 3 people
Equipment: User have to bring their own notebook with appropriate software (e.g. Skype) and HDMI output connection
Where to Borrow? Multimedia Commons Counter (at 3/F Multimedia Commons) on a first-come, first-served basis.
Where to Use? Inside the Multimedia Commons Group Viewing Rooms only.
For How Long? Up to 2 hours or one hour before the Library closes, whichever is earlier (No advance booking, renewals or overnight loan).
Quota: Only one camera will be checked out per person.
On Returning: All equipment and its peripherals must be returned in person to the 3/F Multimedia Commons Counter. Users must inspect the equipment with a Library Staff to ensure that the equipment is in good working order. They should allow 5 minutes for the procedure. Any problems with the equipment should be reported immediately to the Library Staff. Never return the equipment and the accessories to the Library Book Drop.
Fines: $10 per hour
Liability: Borrowers assume full financial responsibility for the cost of repair or replacement of any lost, stolen or damaged equipment and its peripherals. In addition to a processing charge of $50, the replacement cost is $3,869.
Security: Never leave the equipment or its accessories unattended or remove it from the Library building.
Help: Multimedia Commons Counter, 3/F (2766-6870) / Technical Support Desk, 4/F (2766-6909)