To support users in using portable mobile devices, notebook computers, power outlets are provided on study tables are available on various floors of the Library. Please do NOT use adaptors or extension units with irregular holes or without safety shutters. For details, please click here.
Battery charging booths or stations can also be found in different corners of the Library. Please be reminded not to leave the devices unattended during the battery charging process.
Battery Charging Stations
Battery Charging Stations are available on various floors of the Library. The Stations are equipped with a wireless charging pad and tamper-proof industrial-grade charging cables including Apple lightning, micro USB and USB Type-C cables. Users can stop by to quickly re-charge their mobile devices.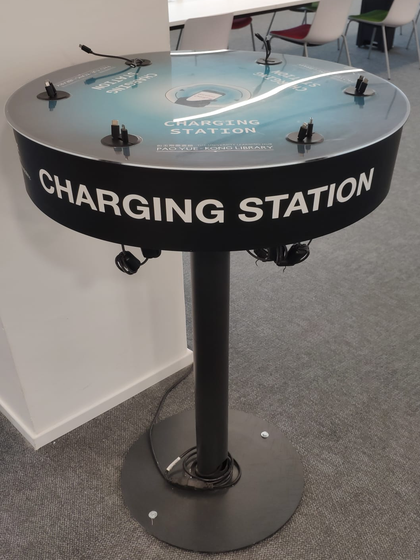 Notebook/Portable device Charging Station on 4/F i-Space
Users can also re-charge their portable devices or notebook computers on 4/F i-Space near Technical Support Desk. Currently, the following adapter format are supported.
Apple 85W MagSafe 2 Power Adapter x1
Apple 85W MagSafe Power Adapter x1
65W Surface Pro Power Supply x1
102W Power Supply for Surface Book x1
Lightning x 2
Micro USB x2
USB Type C x1
USB x1