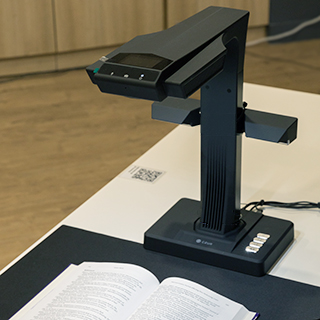 The Digital Makerspace offers a book scanner with advanced image processing such as book image correction, auto-removal fingertips, multiple document detection and scanning thick books. It can also scan a 3D object into a 2D image from top-down view. Walk-ins are welcome, reservation via iBooking system is recommended.
Location
Digital Makerspace, 4/F North Wing
Scanner information
The book scanner is a contactless scanner suitable for scanning books and documents.
Scanning speed
1.5 seconds/per page
Scanning mode
96dpi to 600dpi
Max book thickness

35mm (1.37 inch) for book size 420x297 mm

50mm (1.96 inch) for book size 271x195 mm

Max document size
A3 (landscape)
Booking policy
Eligible users: PolyU/CPCE students and staff, except students leading to no award.
Rules:
Walk-in Closed one hour before the library closing
Two sessions starting at 10:00am and 2:30pm (Mon - Sat) and 2:30pm (Sun) respectively.
The maximum duration of each session is three hours.
A quota will be counted for no-show without making any cancellation. Please cancel your booking before the session begins.
Borrowers are responsible for the loss and damage to the scanner.
Use Guidelines
The PC attached to the Book Scanner will erase all data, documents or scanned images after re-booting. Users have to save all their scanned images to their own flash disk or cloud storage.