The Digital Visualisation Room is equipped with a high performance computer and a high resolution Video Wall to facilitate visualisation of data with images and videos for research seminar and academic discussion, and to support collaborative learning activities through connecting your portable devices to project images, videos, and research data on multiple screens simultaneously.
Location
i-Space, 4/F North Wing
Enquiries
2766-6909 / lbsys@polyu.edu.hk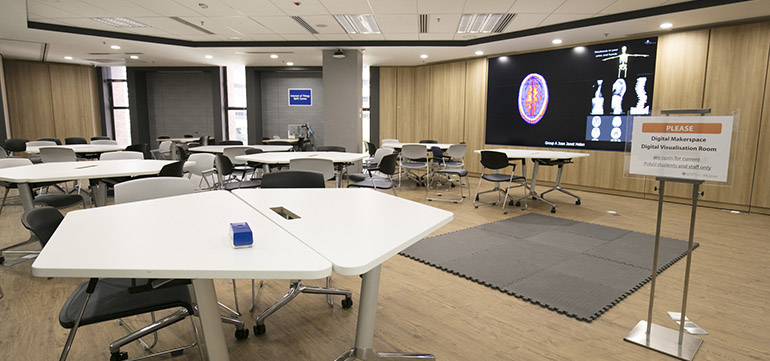 ---
Facilities
Video Wall
Consist of nine 46-inch LED TV panels with ultra-high resolution (5760pixels x 3240pixels)
Enable data visualisation on multiple screens accepting one to nine simultaneous inputs from mobile devices, laptop computers and other devices via wireless or wired connection
Computing & AV equipment
Provide a high-performance computer to support VR and 3D image rendering
Provide blu-ray player, and wireless microphones
Seating capacity
Accommodate up to 42 people
---
Booking Policy
Eligible users
PolyU academic, research and equivalent administrative staff (excluding CPCE staff) only
Rules
The Data Visualization Room is designated to support research related activities.
The Data Visualisation Room is available for booking from 9:00 am to 5:00pm, Monday to Friday (except public holidays).
A booking request form should be submitted at least 3 working days in advance.
The Library will contact you within two working days in response to your request and might request additional information before approving and confirming the booking.
---
Use Guidelines
Users are advised to schedule a testing session to ensure smooth equipment operation.
Collect the iPad control panel of the Video Wall from the Technical Support Desk (4/F) 15 minutes before the booking session and return it to the counter after use
Re-arrange furniture in the Room as needed and restore it after use
The room is available to all current PolyU/CPCE students, faculty and staff when there is no booking
---
FAQ
What can users do with the Library's Video Wall?
The Library's Video Wall is a large-scale high resolution graphic visualization facility which supports up to nine individual and simultaneous inputs up to 5760 x 3240 pixels. It can be used for graphic visualization, graphic and/or data side-by-side comparison, presentation with crystal clear screen/desktop/mobile devices projection and etc. It supports both audio and video inputs from notebooks, Android and iOS devices. If you wish to connect other devices, please let us know in advance for testing.
How to book the Digital Visualisation room?
Generally, bookings are required to be made at least 3 working days in advance in view of the preparation work needed for setting up the Video Wall and its software. Library staff will contact users to confirm bookings.
Can users try out the Video Wall before booking?
Yes, please contact Technical Support Desk (lbsys@polyu.edu.hk or Tel: 2766-6909) to arrange a demonstration session on the features of the Video Wall. We strongly recommend users to schedule a testing session before using the Video Wall to make sure the equipment runs smoothly for individual usage scenarios.
What video and image formats are supported by the Video Wall?
The Video Wall performs screen projection directly from users' own devices. We recommend using high-resolution images and videos to avoid distortion and pixelation after projection to the Video Wall's enlarged screen.