Laser cutter/engraver is a computer-controlled cutting device that provides higher precision levels and edge quality than traditional cutting methods. It also enables us to cut or engrave a complex shapes and design into various materials.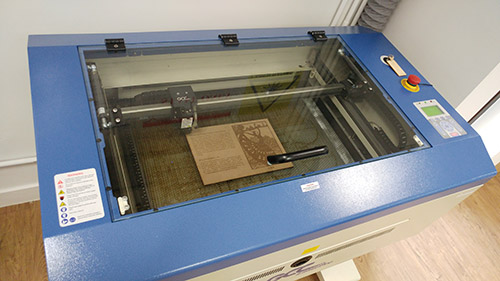 You may also make a consultation appointment to have an introduction to the service
i-Space consultation services appointment
Location
Digital Makerspace, 4/F North Wing
Laser Cutter Information
Model
GCC LaserPro Mercury III
Work area
635 x 458 mm
Maximum speed
42 IPS
Engraving capability
256-level greyscale
Service charge
$20 per 15-minute
Material pricing

Size
Dimensions
Price
Acrylic (black/clear/white) 2mm
S
300 x 200mm
$25
M
400 x 300mm
$50
L
600 x 400mm
$100
MDF 3mm
S
300 x 200mm
$7
M
400 x 300mm
$14
L
600 x 400mm
$28
Plywood 3mm
S
300 x 200mm
$20
M
400 x 300mm
$40
Booking policy
Eligible users: PolyU/CPCE students, faculty and staff.
Rules:
A session for non-authorized laser cutter users from 3:00 - 4:00 pm is available for booking from Monday to Friday (except public holidays).
Booking should be made 3 days in advance on iBooking.

If your project runs exceeded your booked session, we will continue to let it run until completion before 6pm or 1-hour before library close whichever earliest.
The reserved appointments will be forfeited automatically after 10-minute grace period.
Material sold by the Library should be used for laser cutting / engraving only.
Default colour scheme
To save time on setting pen colour of print driver, you can download default pen colour scheme files below.
Format
Size
.ai
S
M
L
.eps
S
M
L
Instructions
You can use vector editing software such as Adobe Illustrator and CorelDRAW to create artwork for laser cutting. Adobe Illustrator CS 6 are installed at i-Space for printing artwork to the laser cutter.
Please do not hesitate to ask questions and seek assistance from our staff at the Technical Support Desk. The laser cutter manual can be reached nearby the laser cutter.
You must well prepare your files in advance to ensure you can fully utilize your booked session.
Please follow the recommended file specifications for Adobe Illustrator below:

Colour mode
RGB
Margins
Leave at lease 5mm margins from all edges of the artboard
Stroke weight for cut lines
0.1 pt
Convert all text to outlines first.
Include all linked files when you save your file.
You can create multiple artboards in your file but the print driver can only handle one artboard per print job.
Avoid duplicated paths stacking on each other or the same path will be cut multiple times.
Working on the laser cutter
You can refer to our material test boards and default print driver settings for reference result of laser cutting & engraving on different material.
Do not use the combination of 50% Speed and 50% Power for error checking.
Print driver setting of less than 380 DPI can only be used for engraving. It will result in error for cutting.
You must wear laser goggles for extra protection of your eyes.
While the laser cutter is operating, be aware of its status and you must not leave it unattended.