The One Button Studio is a self-service studio with a brand new service model to support you to actualise your creativity and help you to create digital content with just a few steps. Unlike traditional studio, the One Button Studio does not require special knowledge or expertise to control audio/video recording equipment during the production.
The settings of the studio are user-friendly and ready to support product demonstration, speech rehearsal, small scale interview, etc.
Location
L303f & L303g, 3/F North Wing (Near staircase No. 1)


One Button Studio
Help
Technical Support Desk (4/F North Wing or Tel: 2766-6909)
Facilities detail, guides & tutorials for using the studio click here.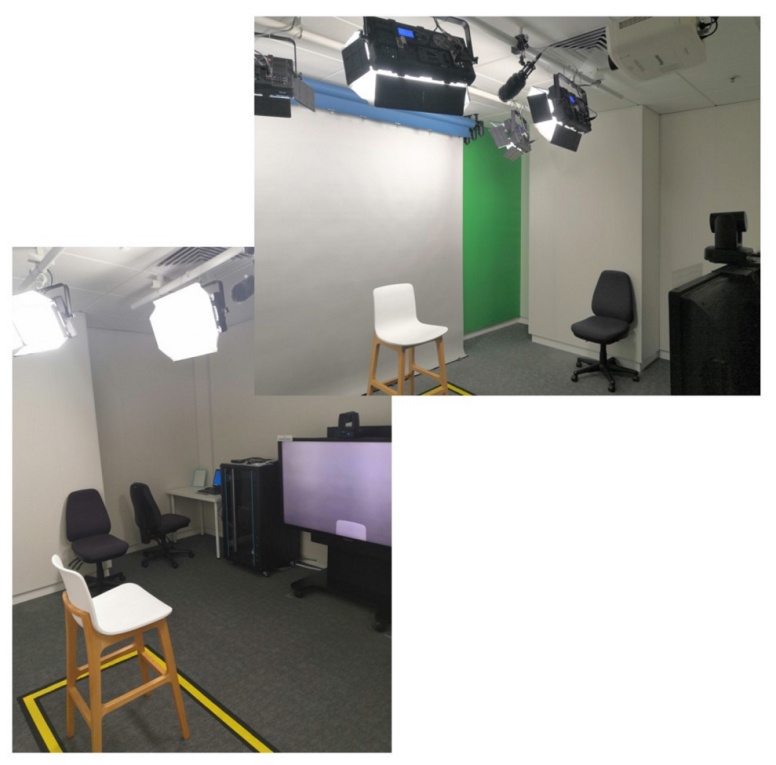 Booking Policy
Eligible users:
PolyU students and staff, except students leading to no award.
Rules:
2-hour per session are available for booking from Monday to Sunday.
Eligible user can have a maximum of 1 booking session per day.
Booking can be made 3 days in advance on iBooking.
The booking will be cancelled and released to other users if user does not check in the studio within the 10 minutes after the booking session starts.
Points to Note
No food or beverages are allowed in the studio.
All equipment is for use inside the studio only.
Never leave the equipment unattended or in an unlocked studio door.
Equipment failure/damage/loss must be reported immediately to the Technical Support Desk (4/F North Wing). If it is determined that the damage or parts missing is due to misuse or negligence, the user will assume full financial responsibility for the costs of repair, labor, replacement parts, etc.
Do not alter, disconnect, or change the cables, connections, wiring, or set-ups of the equipment in the studio without prior knowledge and approval.
Do not attempt to alter the lighting system, including tuning, hanging, focusing of lights and wiring.
Props with sharp blades or edges, flammable materials or liquid, toxic chemical, smoke or simulated fog in the studio is strictly prohibited.
Before leaving the studio, user must make sure they have saved their media files in their own storage devices. Work, which is stored in the computer will be deleted immediately when the computer is turned off. There is no way for files to be recovered once they have been deleted.
Library staff have the right to enter the studio for inspection during users' reserved session when needed.