A vinyl cutter is a computer-controlled cutting device which is usually used to create labels, decals and paint mask by partially cutting through a two-layered self-adhesive material (e.g. vinyl sticker, paper sticker). The cutter is set up to cut through only the upper layer (the adhesive layer) but not the lower layer (the backing layer) of the material (i.e. kiss cutting). In this way, the backing layer can hold the separated cutouts on the adhesive layer together before they are applied on the desired surface.
When the two-layered material is supported by an adhesive cutting mat in the cutter, the cutter can then be set up to cut through both layers of the material, resulting in separated pieces of cutouts (i.e. die cutting). Die cutting with a vinyl cutter is also possible for flexible sheet material such as paper and plastic film.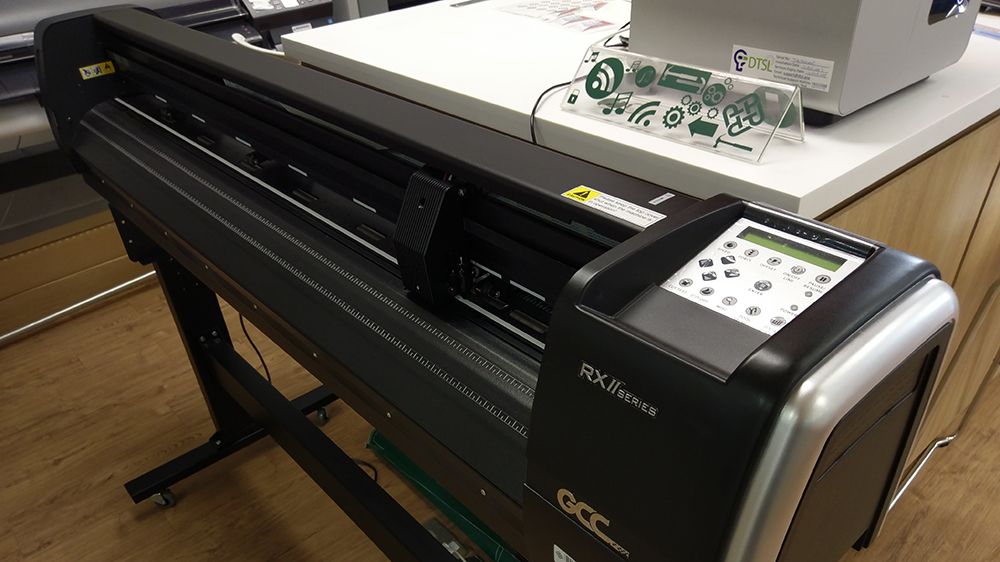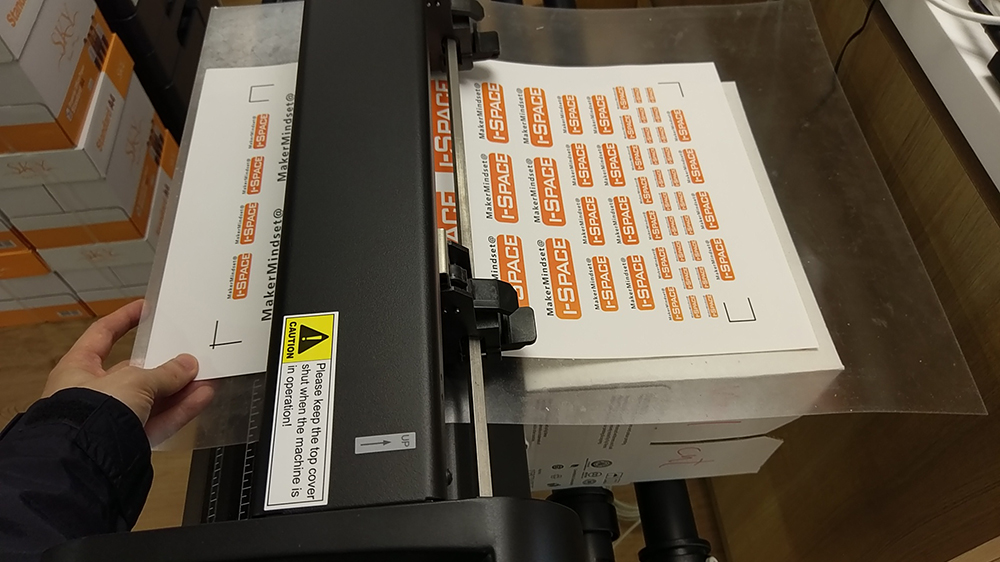 You may book a session here:
You may also make a consultation appointment to have an introduction to the service
i-Space consultation services appointment
Location
Digital Makerspace, 4/F North Wing
Vinyl cutter information
| | |
| --- | --- |
| Model | GCC RX II-101S |
| Media loading width | 50 – 1326mm |
| Media thickness | 0.8mm (maximum) |
| Cutting width | 1010mm (maximum) |
| Cutting length | 25m (maximum) |
Price
Material
Dimensions
Color Print
Kiss cut
Die cut
Price
White paper sticker (sheet)
450 x 315mm

Y

Y

Y

$20 per sheet
(include printing & cutting)
White paper card (sheet)
450 x 315mm

Y

N

Y

$20 per sheet
(include printing & cutting)
Vinyl sticker (roll) – various colours
440mm (width)
N
Y
N
$20 per 300 mm

Transfer tape*

for vinyl sticker (roll)
450mm (width)
-
-
-
$20 per 300 mm
*Transfer tape is used together with vinyl sticker for the ease of transferring the sticker onto the target surface.
Eligible Users
PolyU/CPCE students and staff, except students leading to no award.
Booking Policy
A session from 4:00 - 5:00 pm is available for booking from Monday to Friday (except public holidays).
Booking should be made 3 days in advance on iBooking.
If your project runs exceeded your booked session, we will continue to let it run until completion before 6pm or 1-hour before library close whichever earliest.
The reserved appointments will be forfeited automatically after 10-minute grace period.
Material sold by the Library should be used for Vinyl cutting only.
Material are sold in supporting users' teaching & learning use only.
Library support material provided by the Library only. Bring-in material is forbidden.
Instructions
You can use vector editing software such as Adobe Illustrator or CorelDRAW to create artwork. Adobe Illustrator or CorelDRAW are installed at i-Space.
We are using Adobe Illustrator CS 6 in the Digital Makerspace. If you use newer version of Adobe Illustrator to create artwork, please save the file to CS 6 version. Otherwise, we may not print your file properly.
There are specific requirements (e.g. colour mode, line color, stroke weight, margins, registration marks, etc.) for the artwork created for different types of material, details are written in respective templates below.
Templates files with registration marks are embedded with hidden print driver codes. The registration marks do not work if they are copied from the template to a new file, you must create your work based on our templates.
You are suggested to have your artwork well prepared in advance to ensure you can fully utilize your booked session.
Templates