The studio is dedicated to support audio and video recording, creation of class materials for blended learning, recording interviews of faculty or students, speech rehearsal or thesis defense preparation, etc.
Equipment highlight
HD video camcorder
Professional overhead LED and fluorescent lighting system
DMX panel for brightness control of individual light source
Teleprompter for script display (compatible to Apple and Android devices)
Wireless microphone system (omnidirectional pick-up pattern) for good quality sound reception
Seamless chroma key green backdrop
Solid colors and velvet curtains backdrop
LCD TV on movable stand for PowerPoint display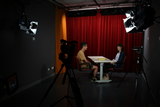 Use Policy and Guidelines
Eligible users:
All PolyU students and staff with valid Student / Staff ID cards, except General Grade Staff, CPCE undergraduate students leading to non-PolyU awards and CPCE students leading to no award.
Purpose/Priority:
Academic projects
Location:
L303g, 3/F Multimedia Commons
Possible Use:
The studio setting is capable to support the following scenarios:
PowerPoint presentation on TV in front of a solid/curtain backdrop
Small group interview with solid/curtain backdrop
Interaction with video/graphics displayed at chroma key background
Small-scale product video demonstrations in front of a solid backdrop
Audio recording
Still photography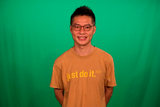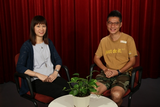 Booking a filming session:
Two sessions are available every day from Mondays to Fridays (except weekends and public holidays) at 10:00 a.m. – 12:00 noon and 2:30 – 4:30 p.m. You may book a session 3 working days in advance.
Users are advised to plan ahead for their booking of the studio. As it takes time for the studio technician to prepare the equipment and adjust the settings in the studio before your session starts, same-day booking is not recommended.
Please contact our studio technician to arrange a visit to the studio or filming session at lbstudio@polyu.edu.hk or 2766-7825.
No show policy:
Your booking will be canceled 30 minutes after the session time begins. If you are unable to come, please cancel your booking as soon as possible so that another user can get an opportunity to use the studio.
Check in:
Arrive at the studio on time.
The studio technician will brief user on proper use of the studio equipment, and confirm the environment setting based on the user's requirement collected from the pre-session communications.
If users will operate any studio equipment on their own, they are required to acknowledge receipt of the equipment in good working order with no damages by signing the "Studio and Equipment Record Form".
Check out:
Before leaving the studio, users must make sure they have saved their media files in their own storage devices. Any files will be deleted on a daily basis at the end of each session.
If users have operated any studio equipment on their own, they must inspect the equipment with the studio technician to ensure that the equipment is intact and in good working order. They should allow 15 minutes for the procedure.
More questions?
Please refer to
FAQ on Studio
.
Note to users:
Any person without a valid Library card will not be permitted to access the studio.
No food or beverages are allowed in the studio.
The studio is dedicated to the production of academic related projects only.
All equipment is for use inside the studio only.
Never leave the equipment unattended or in an unlocked studio door.
Equipment failure/damage/loss must be reported immediately to the studio technician or the Multimedia Commons Counter. If it is determined that the damage or parts missing is due to misuse or negligence, the user will assume full financial responsibility for the costs of repair, labor, replacement parts, etc.
Do not alter, disconnect, or change the cables, connections, wiring, or set-ups of the equipment in the studio without prior knowledge and approval of the studio technician.
Do not attempt to alter the lighting system, including tuning, hanging, focusing of lights and wiring without supervision of the studio technician.
Props with sharp blades or edges, flammable materials or liquid, toxic chemical, smoke or simulated fog in the studio is strictly prohibited.
Before leaving the studio, users must make sure they have saved their media files in their own storage devices. Work, which is stored in the hard drive of the camera, video camcorder, audio recorder or any other recording devices, will be deleted on a daily basis at the end of each session. There is no way for files to be recovered once they have been deleted.
Users are responsible for tidying up the studio when they are done, returning of equipment and furniture to their original or proper location, and the removal of trash, props, or other items that do not belong in the studio.
Library staffs have the right to enter the studio for inspection during users' reserved session when needed.