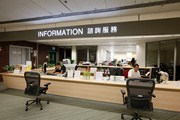 Enquiry Desk (P/F)
Handle general day-to-day enquiries on Library services and resources.
Research Help Desk (Research Enhancement Centre, 3/F)
Assist users with resolving in-depth research questions such as literature search, locating research resources, subject related materials and tools.
Tel: 2766-6863 Email: lbviews@polyu.edu.hk
Technical Support Desk (i-Space, 4/F)
Provide support on IT provision and other services support.
Tel: 2766-6909 Email: lbviews@polyu.edu.hk