Project SAILS (Standardized Assessment of Information Literacy Skills) began in 2001 at Kent State University with the goal of developing a standardized test of information literacy skills that would allow libraries to document skill levels for groups of students and to pinpoint areas for improvement.
Project SAILS helps faculty and academic librarians better understand the information literacy skills of their students. SAILS is a knowledge test based on the ACRL Information Literacy Competency Standards for Higher Education.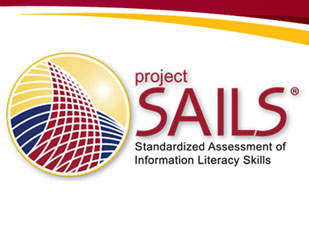 Click here for more details on Project SAILS.
The Library is currently engaged in Project SAILS International Cohort Assessment (Beta test). This test explores the proficiency of university students in the use of information. Its purposes are to (a) study students' educational needs in effective use of information, (b) use these findings to improve the ways we help students develop the capabilities to use information effectively. The results will help the Library to develop programmes which can further enhance the eight skill sets essential to students' studies and research.
The eight skill sets are : developing a research strategy; selecting and using tools; searching; retrieving, evaluating and documenting sources, and understanding economic, legal and social issues.