To facilitate online teaching and learning, instructors can make use of Library's Resource List to seamlessly connect your students to lists of mandatory and supplementary teaching resources directly from Learn@PolyU.
Resource List

is a platform that lets Instructors personally manage suggested readings and other resources, such as e-books and e-journals and Open Educational Resources (OERs) so as to better support online teaching and student's learning.
The Library's OER portal pulls together open-licensed teaching and learning resources that reside in the public domain so that PolyU Instructors can discover and share them to supplement their teaching.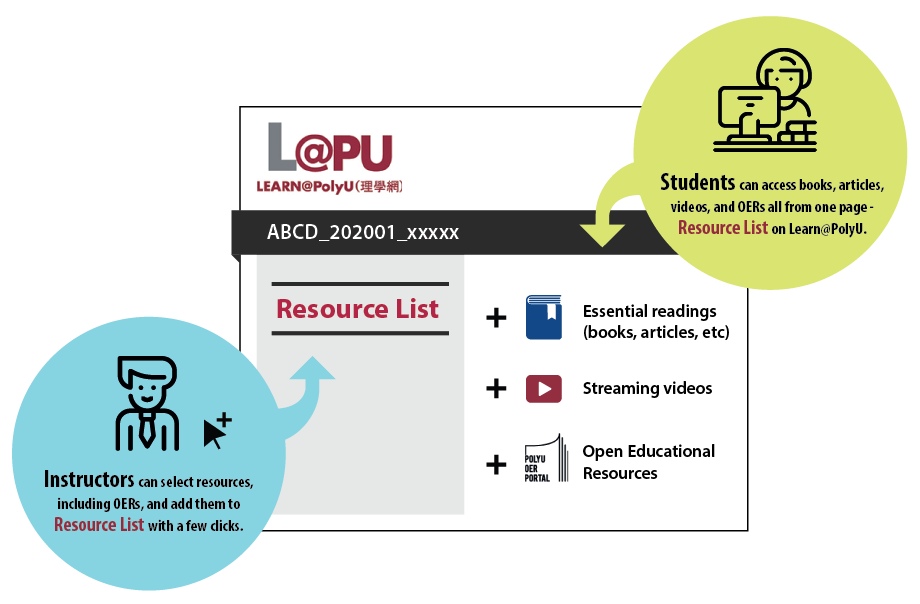 How to add supplementary materials and Open Educational Resources into your Resource List?
Instructors can easily add mandatory and additional teaching materials, including relevant Open Educational Resources (OERs) into the Resource List of their courses.
HSS2011 Human Anatomy is an example of a resource list where the Course Instructor embedded his own OER into the Resource list.
Steps to add materials into Resource List can be found in this Guide.

For further assistance, contact your Faculty Librarian  or call us at  2766-6863  (9 am – 5 pm, Monday to Friday, excluding Public Holidays) during this period.