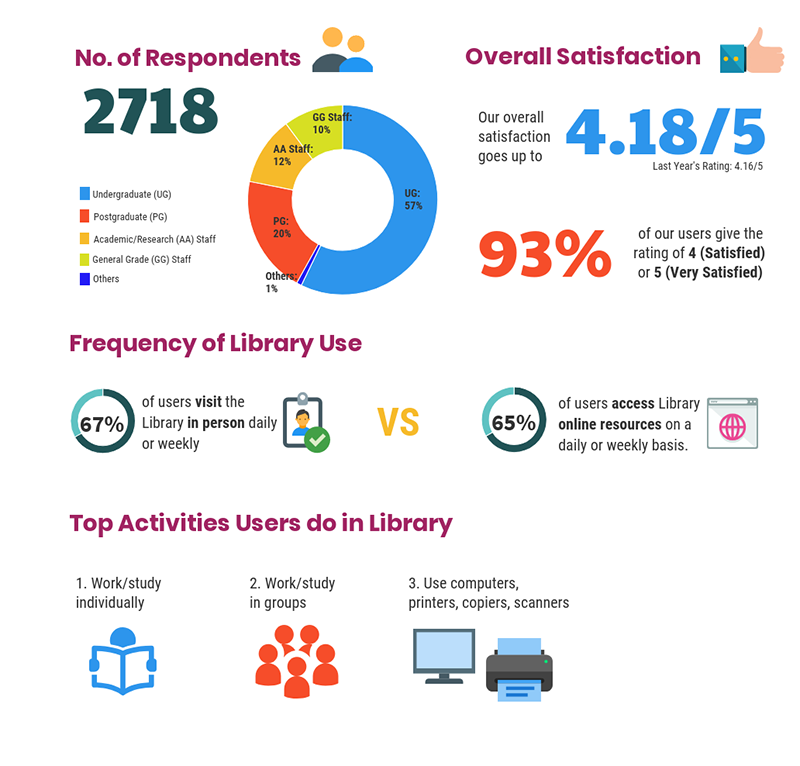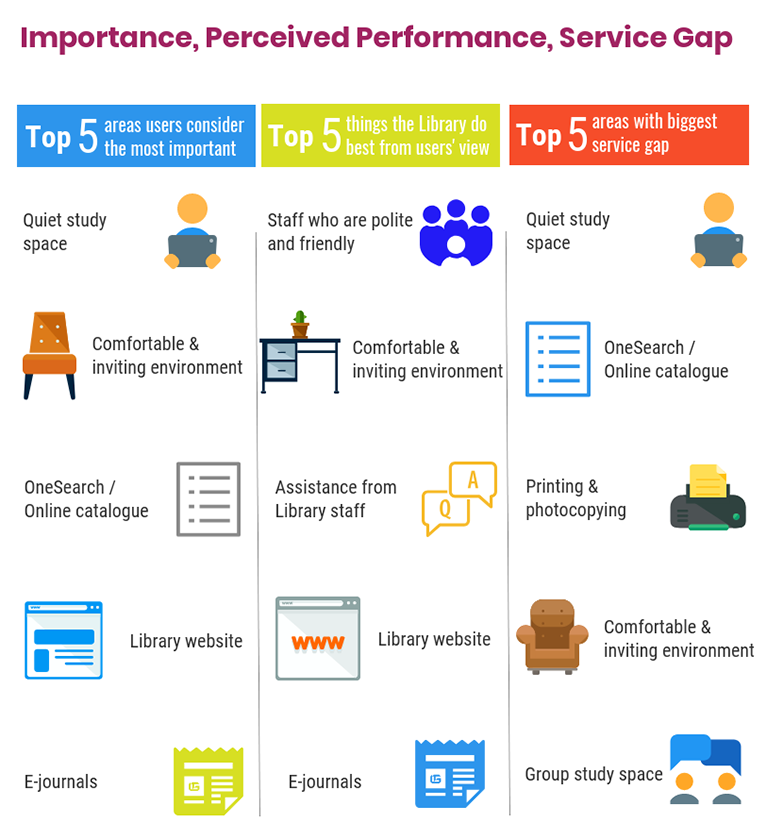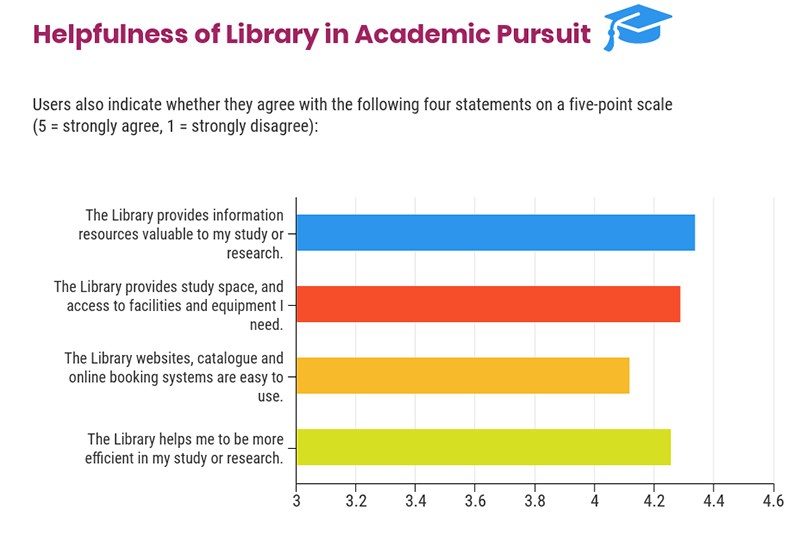 | | |
| --- | --- |
| What users want the Library to improve on ... | What the Library has done in the past and plans to do in the future ... |
| More individual study spaces and group discussion areas | In Summer 2017, the Library renovated 4/F North Wing and 5/F North Wing, providing more than 300 seats for group work and 320 quiet study spaces. Our next step will renovate 4/F South Wing and 5/F South Wing in Summer 2018. Our book collection will be relocated so as to free up more space for group work and quiet study. The expected completion time will be in 2018-19 academic year. |
| Better ventilation system with fresh air intake | A new Indoor Air Quality Improvement Project will be carried out in Library during Summer 2018. Key improvements include installing additional fresh air intake ducts and increasing in the capacity of the existing air-conditioning system and temperature control mechanisms. The air quality improvement is expected to be in place by the end of 2018. |
| Cleaner toilets | New ozone air cleaners were installed and in operation in all Library washrooms since Mar 2017. We will continue to forward user feedback to the Facilities Management Office (FMO) and to liaise closely with them on improving washroom hygiene (e.g., by increasing the frequency of cleaning and inspection). |
| More print books, ebooks, e-journals, newspapers, databases | The Library contains 961,214 volumes print books in English and Chinese, and 3,232,699 volumes e-books, of which 13,800 and 76,000 were acquired in 2017. Also in 2017, we subscribed to over 83,000 e-journals and over 500 databases. To ensure that the collection is up to date, we acquire new resources on a regular basis. New titles can be browsed in the Current Awareness Centre on the Podium Level or online here. |
| Shorter time of logging in Library PCs and PC Upgrade | In early 2018, the Library upgraded over 70 PCs and notebook computers in the 4/F i-Space, P/F Current Awareness Centre (CAC), and 3/F Learning Lab 2 (LL2). We will continue our computer upgrading exercise by replacing 53 PCs in other high-usage areas, including the 24-hour Study Centre, by Jun 2018. |
| More printers, scanners and copiers | The Library is in the process of replacing our printers with new all-in-one (B&W/Colour) printer-copiers. In March 2018, eight new printer-copiers on the 4/F i-Space, 3/F Research Enhancement Centre (REC) and 3/F Multimedia Commons(MC) were provided to users. More new printer-copiers will be in operation before the new 2018/2019 semester begins. |
For more analysis, user comments and Library responses, please refer to the full report to be released. Check it out at the following website in Jun 2018: https://www.lib.polyu.edu.hk/about-us/collection-development/user-feedback-and-survey

The grand prizes of the Library Survey Lucky Draw includes iPad Air 4, Apple Watch, Moleskine Smart Writing Set, Fitbit Charge 2, and Book vochers. The prize presentation ceremony was held on 4 May 2018. Congratulations to the following grand prize winners!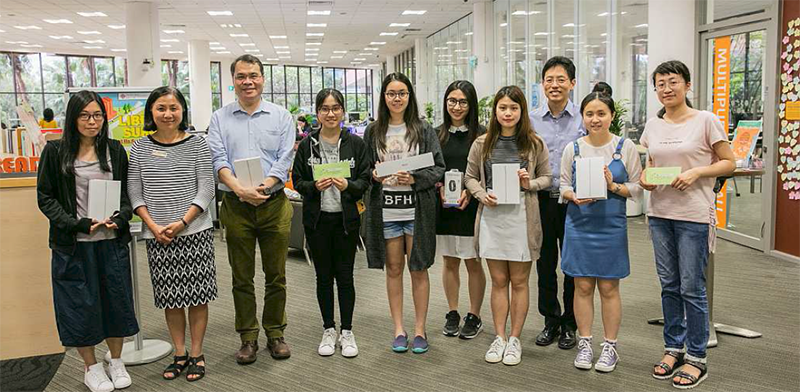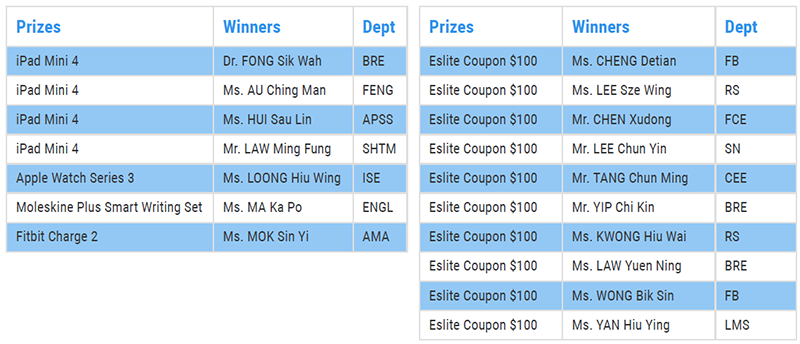 ---
A Memorable Year with READ@PolyU
We read together for another year of READ@PolyU. This year, the Common Book was
The Perks of Being a Wallflower
. Highlights of the 2017/18 programme:
2,030 undergraduates received a copy of the Common Book
708 first year students used the Common Book as a course text for the General University Requirement (GUR) course, APSS1L01 Tomorrow's Leaders
440 members of PolyU came out to the author talks, writing workshops, film screening, and other literary and themed events
220 freshmen participated in the Book Chat Sessions facilitated by Staff and Student volunteers
What was the impact of READ@PolyU?
We asked participants to describe how READ@PolyU impacted their first year at PolyU. We received 160 responses, and here is what students said.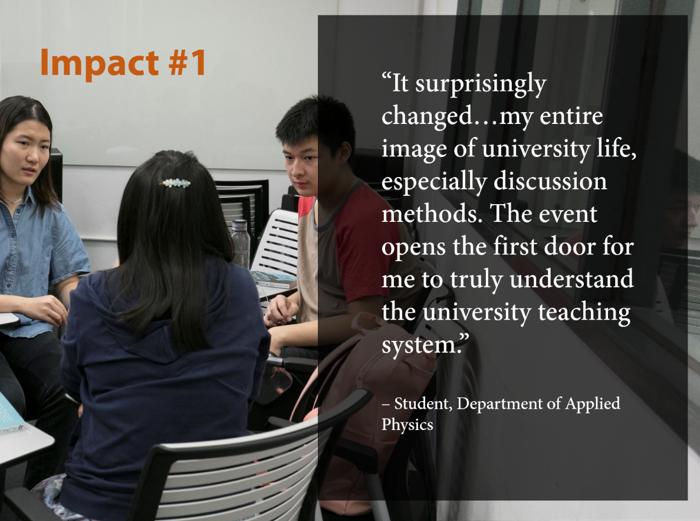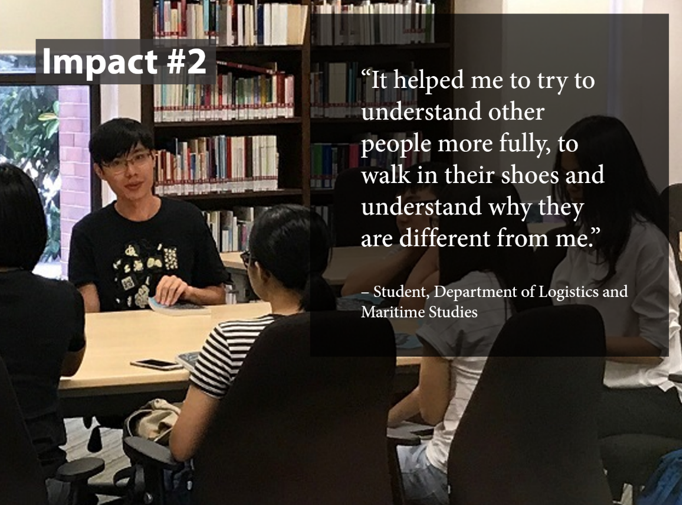 One in three respondents (32%) described the ways in which the Book Chat Sessions gave them a positive introduction to university life.
Another third of the respondents (32%) highlighted the opportunity to learn new soft skills, including empathy, cross-cultural understanding, coping skills, and self-confidence.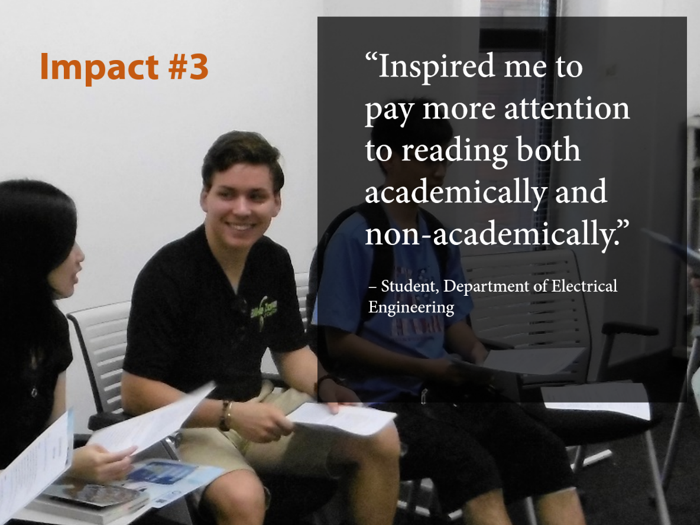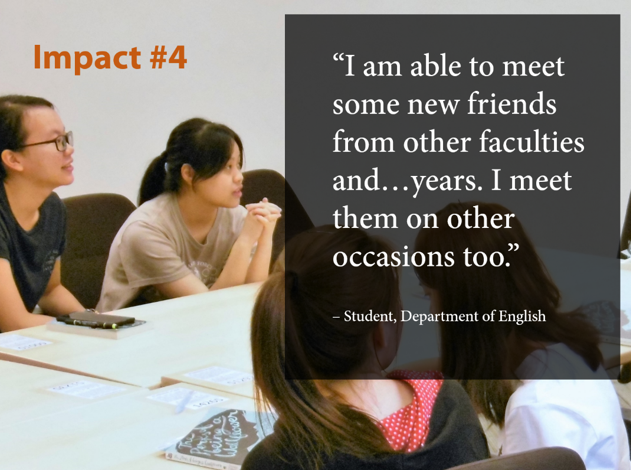 One in four of the respondents (23%) identified the desire to read more, and more broadly, as an outcome of participation in the Book Chat Sessions.
One in seven respondents (13%) identified the formation of new friendships as a positive outcome of the small group discussions.

When asked if they recommend READ@PolyU to next year's freshmen, 99% of respondents said YES, they would!
And the winners are…
The 10 finalists of the 2017 READ@PolyU Writing Contest gathered at the Library for the year-end Awards Ceremony.