i-Space -

A newly renovated space For Inspiration, Ideation and Implementation
The i-Space is a designated group work space specifically zoned to represent an Innovation Design Roadmap of Inspiration, Ideation and Implementation. This space is a technology-rich space furnished with a variety of easy to use digital equipment and facilities, including Idea Pods with white boards on featured walls, bookable Group Study Booths equipped with LED TVs for 4-6 persons, Digital Visualisation Room, Digital Makerspace, Digital Studio, VR Experience Zone, and multimedia workstations installed with graphic and video editing software. These facilities are conducive to digital literacy, research and learning for students from all disciplines to learn, evaluate and create digital content.

Below are features and services offered in each zone:
Inspiration Zone
A leisure reading area to stimulate ideas generation
Around 5,000 volumes of drawing, design and illustration books of Fine Arts subjects housed in wall-mounted book shelves;
Featured book display to promote innovation and maker cultures periodically.

Ideation Zone
Discussion and Collaborative space to share and build ideas
Bookable Group Study Booths equipped with LED TVs to facilitate group discussion;
Idea Pods with white boards on featured wall to exchange ideas effectively; and
Flexible and moveable furniture to facilitate group discussion.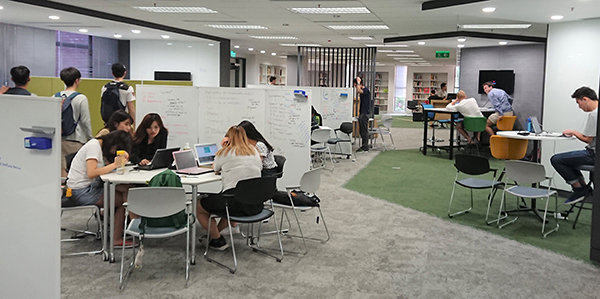 Implementation Zone
A technology-rich space furnished with a variety of easy to use digital facilities and services for students to actualize their creativity and imagination
Digital Visualisation Room equipped with a high performance computer and a high resolution Video Wall to facilitate visualisation of data with images and videos for research seminar and academic discussion, and to support collaborative learning activities through connecting your portable devices to project images, videos, and research data on multiple screens simultaneously. This room also serves as a co-working space to support Digital Makerspace's workshops and activities when there is no class or event in the room.
Digital Makerspace is equipped with various easy to use fabrication and digital equipment.
Multimedia Commons includes following facilities

Digital Studio is equipped with a 4K video camcorder and professional lighting equipment to support audio and video recording.
Multimedia Workstations provides high-performance graphic PC and Mac computers designated for editing video clips and creating 3D models.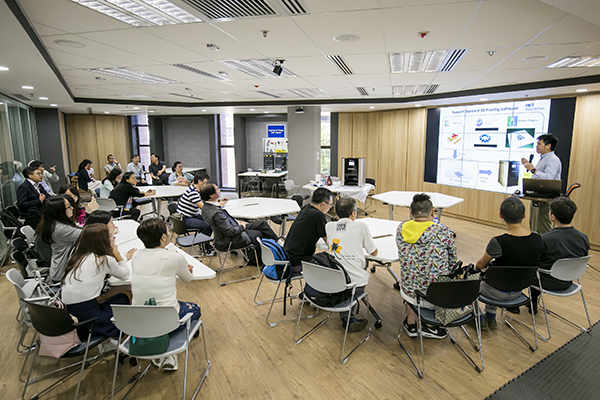 ---
Login with your NetID to use Library services
From now on, all library users must login with their PolyU Network Identity (NetID) and NetPassword. Besides current PolyU and CPCE students and staff who already have NetIDs, all library card users must register for new NetIDs to continue use of the library services.

Alumni Library users
Alumni Library users can use a single Alumni NetID to enjoy library services, own lifelong email accounts, assess to PolyU WiFi and 1TB cloud-based storage. Alumni card holders must either register for Alumni NetIDs or keep using their PolyU Connect NetIDs if they graduated in and after April 2011.

If you encounter problems logging with your Alumni NetID, please approach the Loan & Return Counter or Technical Support Desk (3/F) in person to verify or activate your NetID.

JULAC and Library card holders with borrowing privilege
To strengthen data privacy, Library has assigned a new NetIDs for JULAC and Library card holders to use public workstations and/or library services. Individual email with your NetID information and activation instructions has been sent to your personal email addresses registered in the Library.

After migrated to a New Shared Integrated Library System, JULAC users must login to your home library account to view and manage your borrowed items from PolyU library.

Visiting scholars
Your affiliated departments may have already register NetIDs for you. You are also required to approach the Loan & Return Counter or Technical Support Desk (3/F) in person to activate your library account.
More information is available at
NetID & NetPassword
page.
---
Language learning kits @ Multimedia Commons
Do you need improving or acquiring a new language to support your study, open up job opportunities, or travel overseas? The Multimedia Commons on the 3/F houses a collection of language learning kits on featured display stacks for easy browsing and searching. They include Chinese, English, European, Japanese, and other Asian languages. These learning kits may accompany with audiovisual materials, as well as phrasebooks and guides on language tests. You can borrow these items for 7 days via the self-check stations and renew them up to 21 days via myRecord. You may also check out an AV carrel to use these learning kits in Multimedia Commons.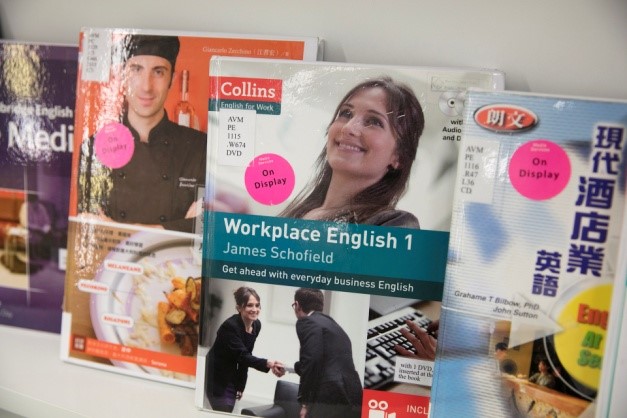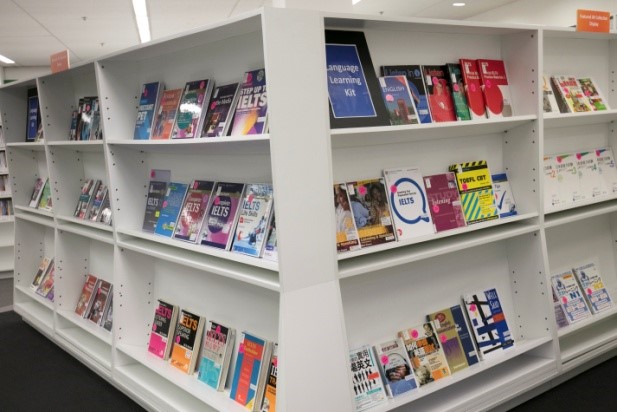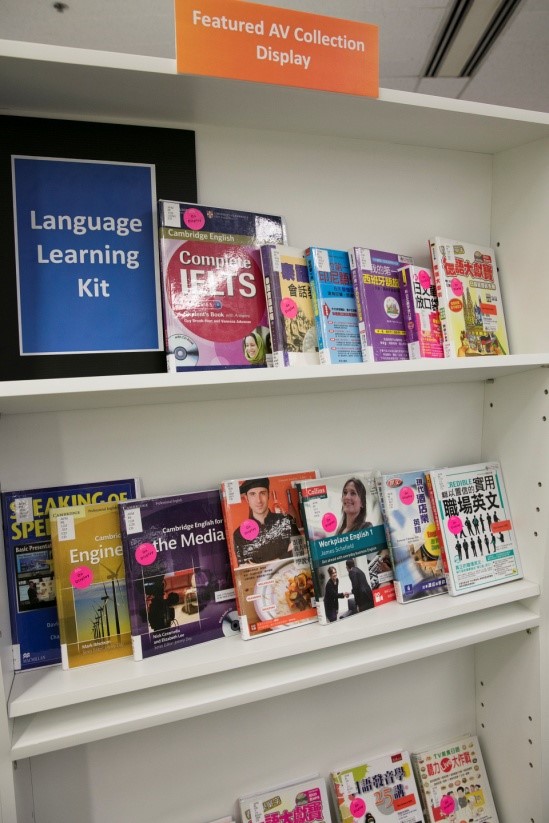 ---
Video wall @ Library entrance
When you enter the library, have you ever missed some important workshops, facilities and services offered in the Library? In July 2017, the Library installed an engaging video wall with 3 x 55" screens mounted in portrait orientation in the lobby near the entrance to display the latest updates of Library services, facilities and workshop information.

Do stop by at the library entrance when you enter or leave the Library for library updates to boost your experience in the library.