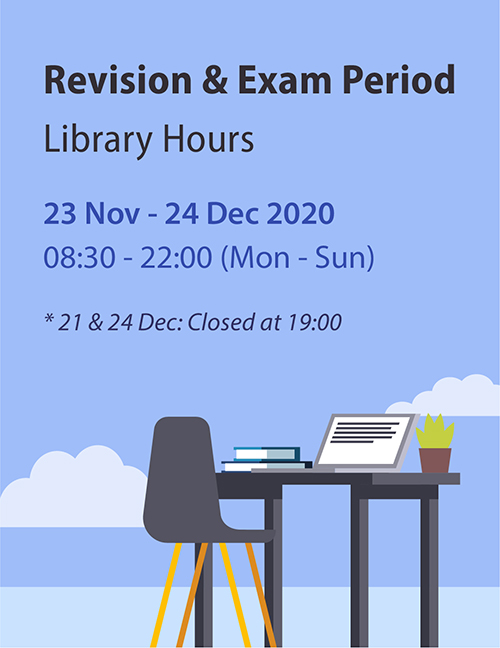 Library Hours During Revision & Examination Period
| | |
| --- | --- |
| 23 Nov - 20 Dec: | 8:30 - 22:00 |
| 21 Dec: | 8:30 - 19:00 |
| 22 Dec - 23 Dec: | 8:30 - 22:00 |
| 24 Dec : | 8:30 - 19:00 |
Alternative overnight study space
The 24-hour Study Centre located on G/F is now closed but alternative overnight study space will be provided in CD301 - 304 and Communal Space. For details, please click here.
Quiet study environment
Silence must be observed in the Library. Noisy users may be asked to leave the Library.
A variety of individual study spaces
Study carrels are available on 4/F and 5/F. Research carrels (Zone A and Zone C) and study seats in Research Carrels (Zone B) on 3/F are open for booking by eligible users one day in advance via PolyU iBooking System.
Be considerate and check out facilities after use
Tap your PolyU ID Card on the check-out reader nearby to release your booked group rooms on G/F and 3/F, research carrels, and study seats in carrels on 3/F after use.
Past examination papers
PolyU Examination Paper Database collects the examination papers received from academic departments of the university. Need Past Papers to prepare for your Exam? Try it now!