The project "i-Space: A Makerspace and Community for Students of All Backgrounds at the University Library" launched by the Library of The Hong Kong Polytechnic University (PolyU) has won the Regional Silver Award in Asia-Pacific and Cultivating Curiosity Bronze Award of the QS Reimagine Education Awards 2020.
The PolyU Library built and opened the new i-Space in 2017. The i-Space is an experimental learning space zoned for inspiration, ideation and implementation. It is an educational innovation, the first of its kind among academic libraries in Hong Kong. To promote the equality of opportunity for students to access digital equipment, the Library offers a new facility Digital Makerspace in i-Space to provide a low barrier of entry for students of all disciplines and family background to try out and explore entry-level digital equipment such as Internet of Things (IoT), Virtual Reality (VR), 3D scanning & printing, laser cutting, vinyl cutting, poster printing, videos recording and editing.
With a view to cultivating curiosity and Can-do Mindset, MakerMindset@i-Space Programme was launched in 2018 with the sponsorship from Shun Hing Education and Charity Fund. The Programme enriches students' learning experience through creative and insightful hands-on workshops and seminars, encourages students to explore inspirational use of emerging technologies in creative work.
The PolyU Library's Digital Makerspace embraces Culture Tech concept by bringing culture, technology and interdisciplinary collaboration together. In facilitating knowledge transfer to the community, the PolyU Library and Department of Electronic and Information Engineering co-organized the "Inter-secondary School Virtual Reality Contest" with the theme "Stories from Ancient China". The Contest challenged secondary students from diverse disciplines to turn stories and fables from ancient China into immersive Virtual Reality games.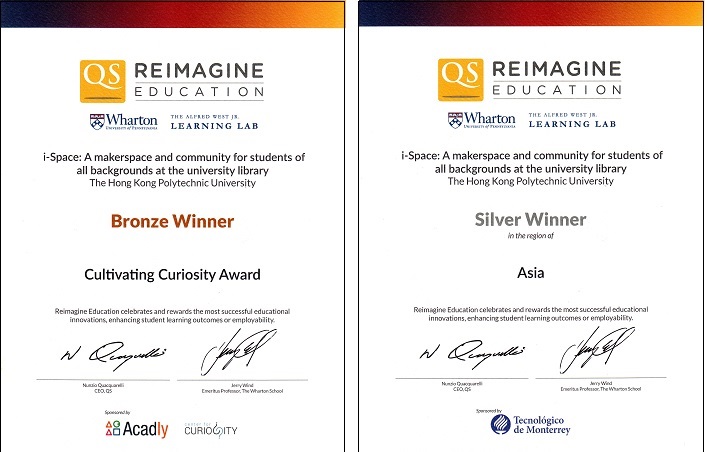 The international Quacquarelli Symonds (QS) Reimagine Education Awards are designed to reward the most successful educational innovations, enhancing student learning outcomes and employability. Over 1500 educators from across the world contested this year's Awards. Over 250 educators from across the world submitted judging candidacies, from which 194 of the most authoritative and experienced were selected.