PolyU Outstanding Work by Students: Share the pride and be inspired
The Library is proud to soft-launch PolyU Outstanding Work by Students (PolyU OWS) exhibition and portal (
http://ows.lib.polyu.edu.hk
). Arising from the PolyU Strategic Plan 2019/20 - 2024/25, PolyU OWS exhibition and portal are the Library's ongoing commitment to showcase and build pride in outstanding work by students.
The outstanding work and student stories featured fulfill the PolyU motto "To learn and to apply, for the benefit of mankind." A wide range of exceptional student work in different disciplines, which have attained individual and group achievements, internal or external awards, or work that contribute towards the betterment of society, are captured, archived, and showcased on our ever-growing portal.
From April to July 2019, three feature stories of students from the
Department of Mechanical Engineering
,
School of Design
, and
Department of Land Surveying and Geo-Informatics
, take the center-stage of the exhibition area on the Podium Floor of Library.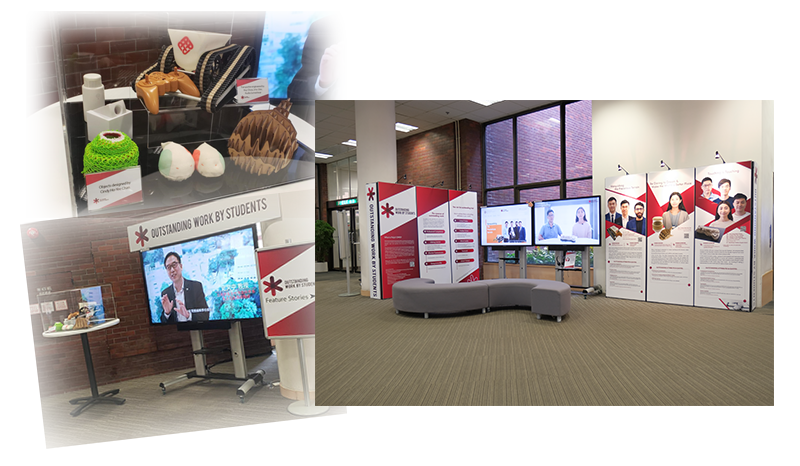 2019 Library Survey Results
Thanks for sharing your views. The annual survey was conducted in early 2019 to understand how our users perceive and expect on Library services. Altogether 2,703 participants responded, with overall satisfaction at 4.19 (out of 5-point scale), reflecting that Library services were highly valued by PolyU community. The written comments also provided important input to the Library on identifying areas of improvement that best meet the user needs.
The survey results is now visualized in an infographic report. To learn more, please visit
this website
.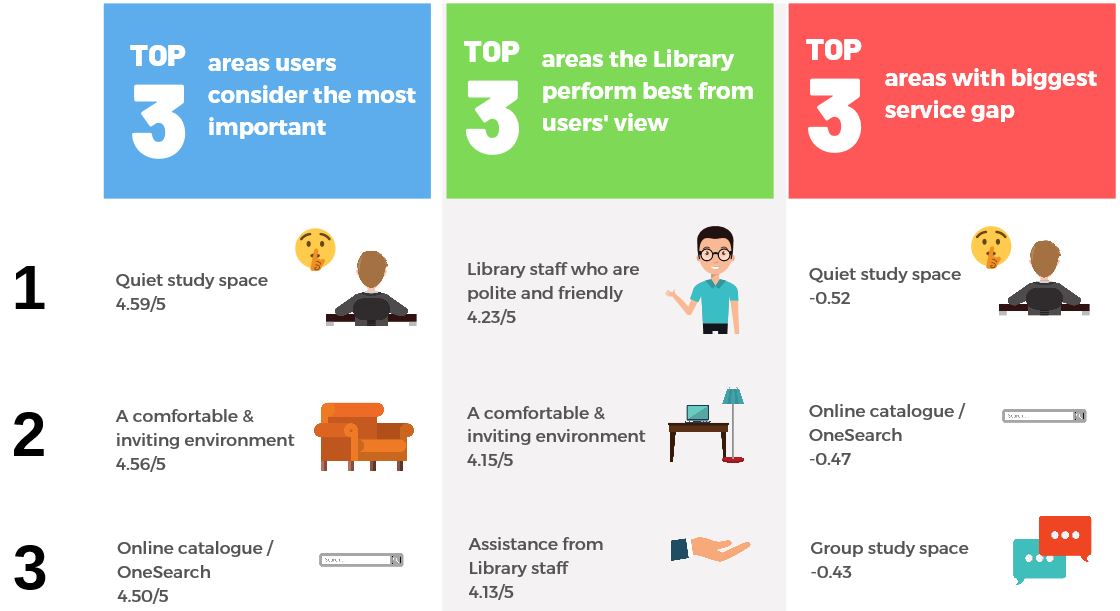 The grand prizes for the Library Survey Lucky Draw were presented to the winners on 17 April 2019. Congratulations to all of you!
Prize

Name

Department

iPad
WANG Qiao
CBS
iPad Mini 4
TONG Sin Ying
SD
Bose Bluetooth Speaker
LEE Long Hei
AAE
AirPods
CHAN Kwai Huen
RS
Apple Pencil
TAM Wing Hang
SHTM
Eslite $100 Gift Card
NG Sun Wai Vincent
LAM Wai Kin
CHUNG Yee Ting
LAM Kit Lei
LEUNG Ching Yee
SIU Wing Yan
FUNG Wai Ching
CHOW Pui Kwong
LAW Sai Chung
DONG Yixin
SHTM
ITC
IAU
APSS
FB
RS
ABCT
BSE
FENG
CC
Virtual Reality Competition for Green Deck Concluded with Success!
Initiated by PolyU, the proposed
Green Deck
, a 43,000 sqm space on top of the Cross-Harbour Tunnel Toll Plaza, is an innovative social project that revitalizes the Hung Hom and the nearby areas. A Virtual Reality Competition was orgnized in an attempt to raise the awareness of the Green Deck project with the use of emerging technologies. To enhance the learning experience for the contestants, Mr Alex Lui, Project Director of Green Deck, delivered a seminar to share the design concepts and latest development on Green Deck, while Dr Walter Fung, Teaching Fellow from Department of Computing, organized 3 training sessions for contestants to acquire new skills on 3D simulation and modeling. After which, the student teams set off a 2-month journey to unleash their creativity in their Green Deck design scenarios. The learning experience also cultivated a lot of new friendships between students from different disciplines.
Congratulations to the following student teams on winning the contest!
Award

Project Title

Participant

Champion
Solar Road
CHEUNG Ka Yee (BRE)
KO Sing (BRE)
WAN Hoi Yik (BRE)
WONG Tze Hin (BRE)
1st Runner-up
Jogging Path "Dragon"
TSANG Hon Fung (BRE)
LO King Chi (BRE)
2nd Runner-up
Horticulture
MAK Sze Long (EIE)
LUO Yanwen (COMP)
IP Ka Yan Lorelei (SN)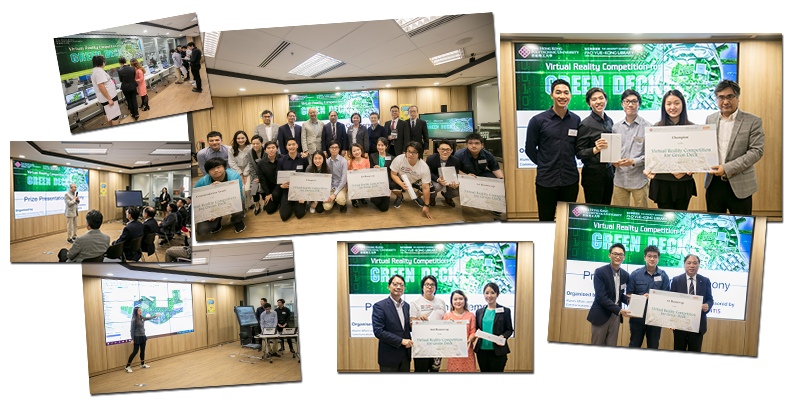 Come explore the award-winning Green Deck design scenarios at the Exhibition Area (P/F) of the Library until 31 May 2019.
For more information, please visit the
competition website.