Revitalization of North Wings on 4/F & 5/F of the Library
North Wings of the 4/F & 5/F of the Library in 2,290 m2 have been revitalized in the summer of 2017 to provide an inspiring and welcoming learning environment to the University community.

The purposely designed i-Space on the 4/F creates an engaging environment with digital fabrication equipment and facilities, such as Internet of Things (IoT) corner, Virtual Reality experience zone, and over 5,000 books on Fine Arts and Design. It aims to facilitate students to learn by experiencing, creating and demonstrating newly acquired knowledge in a concrete and creative way.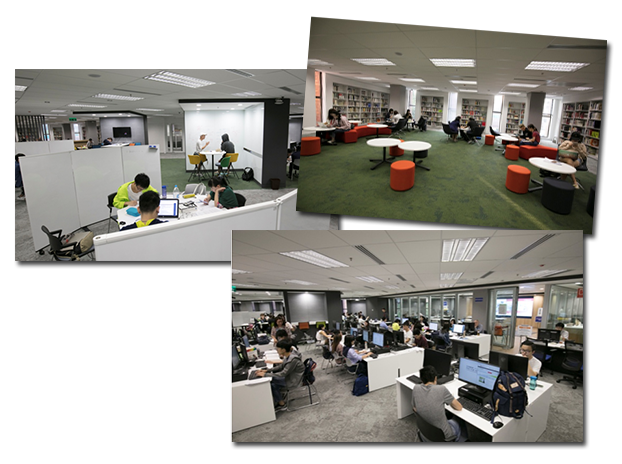 Over 300 seats with dividers, task lighting and sockets have been installed in the newly renovated quiet study zone on the 5/F
to support focused study and reflection.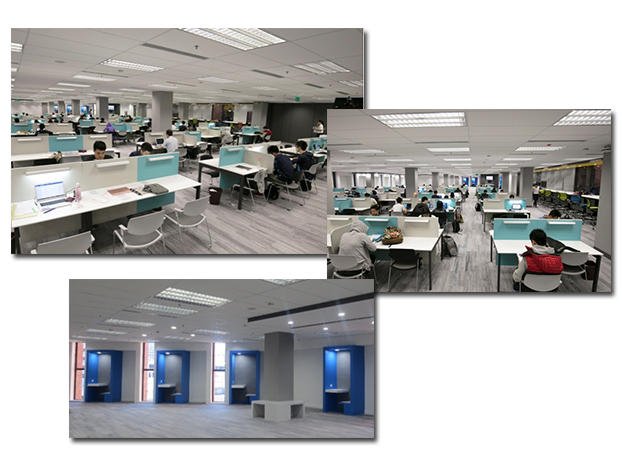 Promoting a reading culture at PolyU -
Celebrating six years of READ@PolyU
For the past six years, READ@PolyU has engaged students and staff in a reading culture at PolyU. The READ programme builds upon the shared experience of reading a Common Book, a copy of which is given free-of-charge to all first-year full-time PolyU undergraduates.
This year's Common Book is The Perks of Being a Wallflower by Stephen Chbosky, an award-winning novel and New York Times bestseller featuring the observant "wallflower" Charlie as he navigates the world between adolescence and adulthood.
Around 2,000 students picked up copies of the Common Book this year. With books in hand, over 200 freshmen registered for and attended the Book Chat Session series over a period of six weeks at the Library. During the Book Chats, students had the opportunity to explore, in a small group led by a staff facilitator and senior student facilitators, thought-provoking topics related to the Common Book.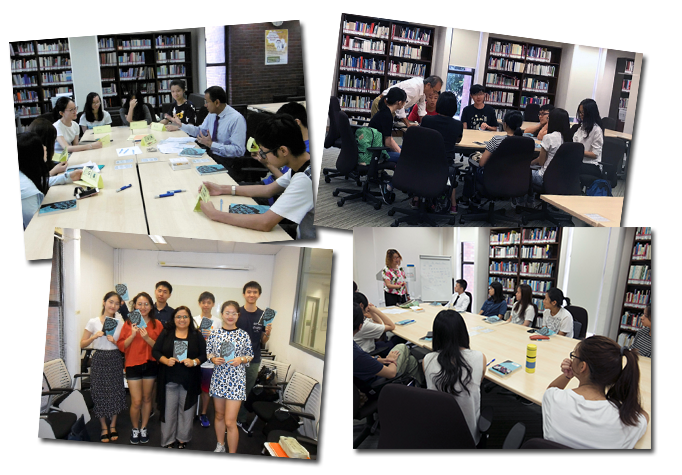 Book Chat Sessions
The conversation continued with various talks and seminars. Individuals from the PolyU community, from students to faculty, came out to hear the inspiring testimonials of Dr. Alman Chan, Principal of the Christian Zheng Sheng College, and Mr. Jeffrey Andrews, Hong Kong's first ethnic minority Social Worker. We were all a bit less lonely for having heard how the quiet achievers among us overcame life's common (and not so common) challenges to make a positive difference in the community.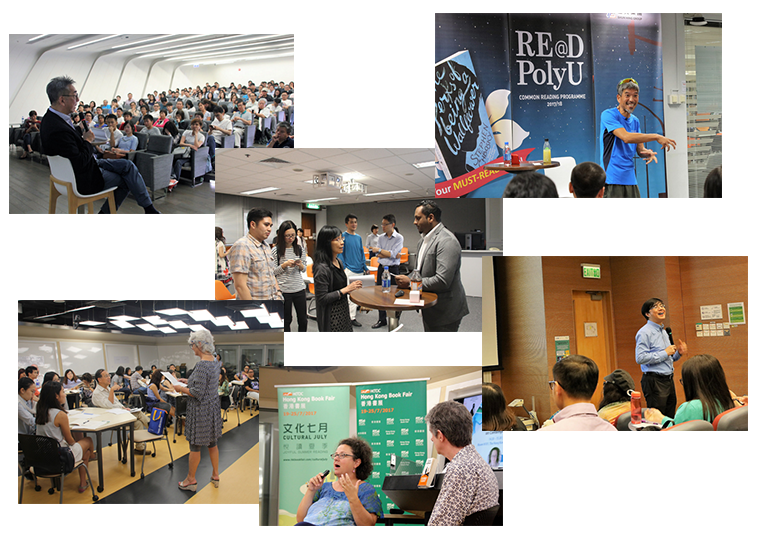 Author Seminars, Thematic Talks and Writing Workshops
The Library also ran summer events for PolyU readers in partnership with Hong Kong Trade Development Council, British Council and English Language Centre.
Upcoming events include a Diary-Writing Workshop on 14 November 2017, and the Diary-Writing Competition with tantalizing prizes.
Co-organisers of READ@PolyU 2017: Pao Yue-kong Library, English Language Centre, PolyU International Film Society and Breakthrough.


On 17 July 2017, the PolyU Library and all UGC-funded university libraries successfully launched a single cloud-based Shared Integrated Library System (ILS) and OneSearch discovery platform to replace eight stand-alone library systems.
Enhancements on the new Library system
Embedded HKALL (Hong Kong Academic Library Link) and Interlibrary Loan


OneSearch allows users to seamlessly search and request print and shared electronic collections from all eight UGC-funded university libraries in one go.

Responsive web design


With a responsive web design, OneSearch is optimized for browsing and reading on mobile devices - be it a smartphone, tablet or desktop computer.

Intuitive search interface

OneSearch has an easy to use, modern interface that brings you an improved user experience. You can easily navigate through search results on the "bento-box" style display grouped by major resource types, and further narrow down results using the "Refine my results" tab.

Flexible renewal

If your loaned items are not recalled or requested by other patrons, you can renew any time up to the maximum loan period.

Seamless Single Sign-On (SSO)

With the new ILS, you can sign in with the University's NetID and NetPassword to use Library services and public computers. Sign in once to SSO-enabled applications such as MyRecord, and you can use other Library services such as remote access to Library e-resources, HKALL, Interlibrary loans, etc. without signing in again. For more information about NetID and NetPassword, please visit this page.

Enhanced MyRecord

You can view all your checked out items in MyRecord, including those borrowed using your JULAC Borrower's Card. You no longer need to manage different library accounts and passwords for each JULAC library. If you borrow books from other UGC-funded libraries in person, all your loan status will appear on your PolyU Library account.
If you have further questions on the new OneSearch, please feel free to contact our Research Helpdesk (3/F) in person, by phone at 2766-6863 or via email at lbviews@polyu.edu.hk.
---
Library Survey 2017

A big thank you to the 2,613 Library users who took part in the survey in 2017. Comparing with the Library Survey in 2015, the overall satisfaction rating in 2017 increased by 2.72% from 4.05 to 4.16 (Out of a 5-point scale). Academic/research staff were the most satisfied group (Average score at 4.30), followed by postgraduates at 4.28. Nearly 99% of the respondents from our core users (Undergraduates, postgraduates, academic/research staff and general grade staff) had an overall satisfaction rating of 3 or above (See Figure 1).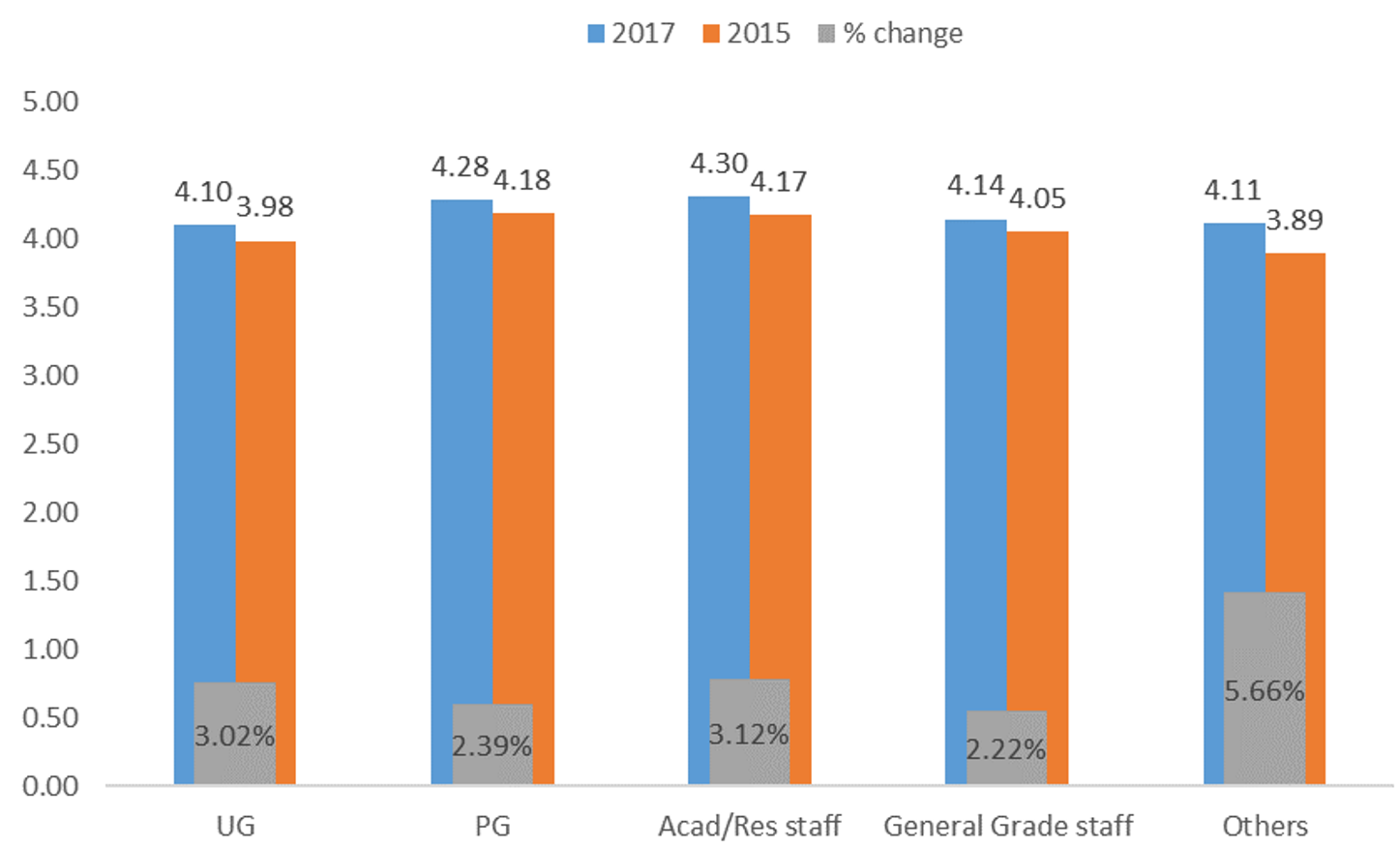 Figure 1: Satisfaction by user type

Overall, all user types found the Library helpful in their academic pursuits – scores for all statements ranked above four on a five-point scale (See Figure 2). Across the board, postgraduates found the Library most helpful in their academic activities, in particular, the first statement on the left received the highest score (4.46 out of 5) in this section of the survey.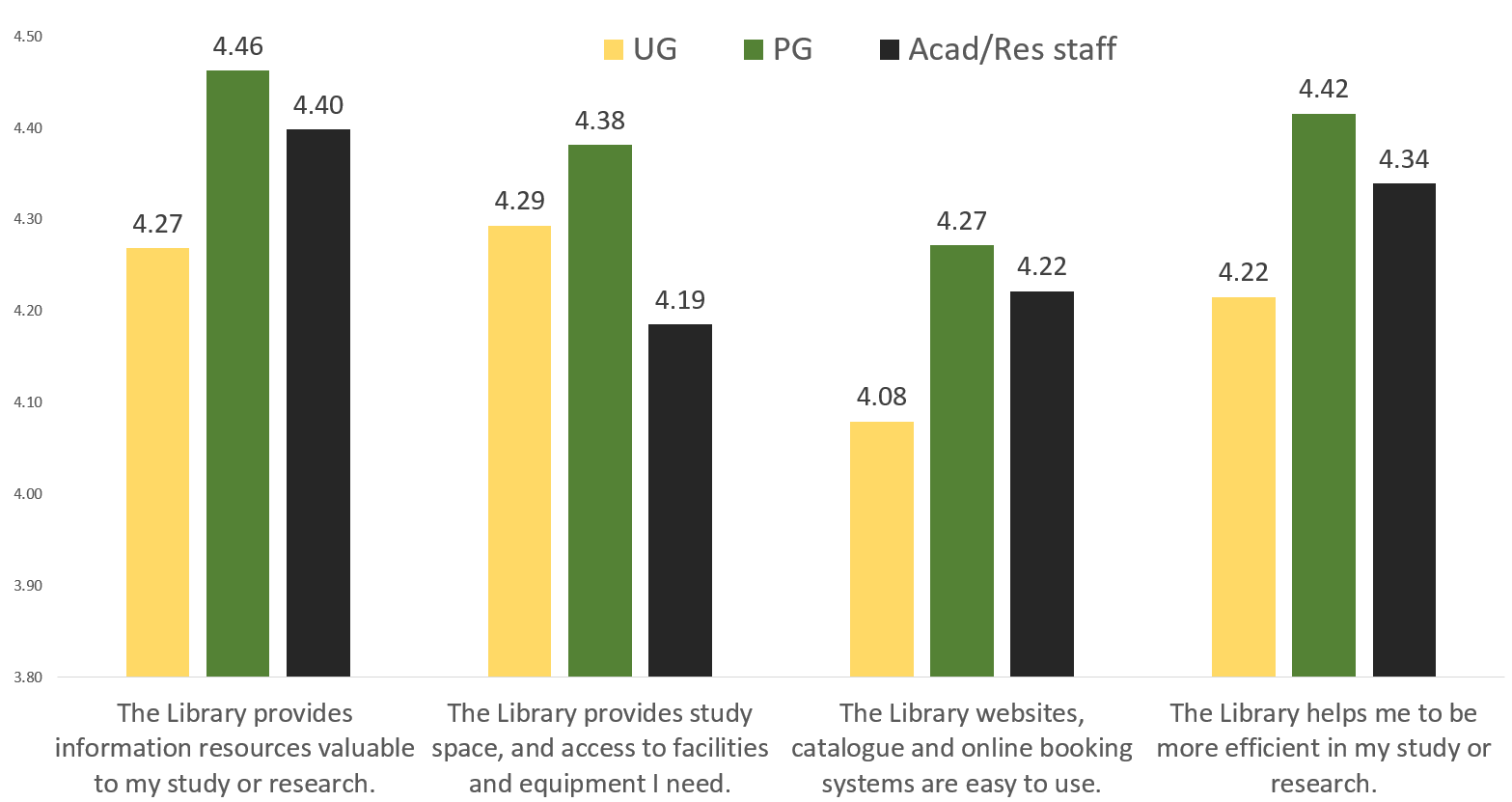 Figure 2: Helpfulness of Library in academic pursuit
(On a 5-point scale, 5 = strongly agree, 1 = strongly disagree)
For more analysis, user comments and Library responses, please refer to the
full report
.