Prize Presentation to Lucky Draw Winners of the Library Orientations Sessions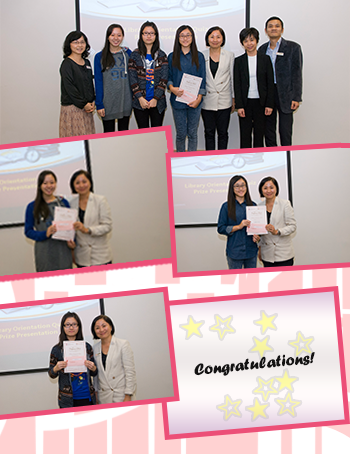 To encourage the participation of the Library Orientations, students who attended the sessions in Jul - Sep 2014 and got full marks in the quiz can enter the lucky draw to win a $100 book coupon.
A prize presentation ceremony was held on 25 Nov 2014 in the Library Seminar Room (REC, 3/F). The University Librarian, Dr Shirley Wong presented the book coupons to Miss Leung Tung Sum Sammi (FENG), Miss Pang Wai Fong (FENG) and Miss Lau Oi Ying (LGSI), the winners of the lucky draw. During the subsequent sharing session, the winners reflected that the Library Orientation Sessions were very useful and they learned how to locate a variety of Library resources available for their assignment needs. These first year students further shared their user experience in the Library with the University Librarian and professional Librarians from the Information Services Section. The information will help the Library in planning the delivery and promotion of the learning resources in future.
---
A series of Topical Learning Resources online for students and staff to review and reflect the contents discussed in Library Workshops has been introduced in the 1st semester 2014/2015.
These resources, covering a wide range of topics, allow you to access and download Library workshops materials anytime, anywhere. Workshop participants are able to view the full version of the Topical Learning Resources.
A snapshot of topics: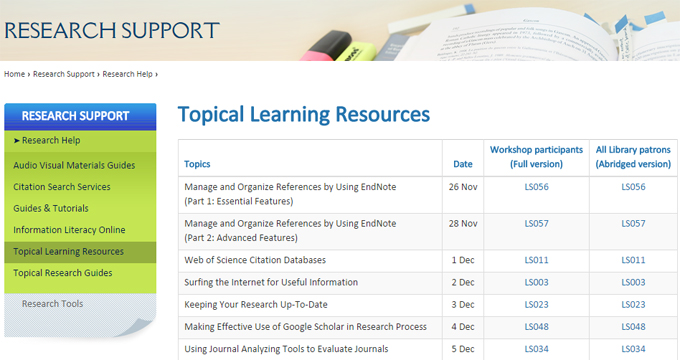 ---
Online Tutorials - Learn an Essential Skill in Just a Few Minutes!!
An array of 15 online tutorials, in 5 major categories, is now available! You will be able to grasp the essence of a topic by viewing short video clips (around 1-2 mins.).
Let's take a look at what are available in the following table. To access, please check out: https://www.lib.polyu.edu.hk/research-support/help/guides-tutorials
| Category | Topics |
| --- | --- |
| Finding Your Research Impact | |
| Course Readings and Blackboard | |
| Assistance in the Research Process | |
| Searching Business Information | |
| Examination Assistance | |
---
Education Info Day
The annual PolyU Education InfoDay was held successfully on 11 Oct 2014 (Saturday). The Pao Yue-kong Library attracted more than 8,500 visitors, with prospective students from over 50 secondary schools to join the Guided Library tours, Free Admission Visits and the Game Booth on the event day.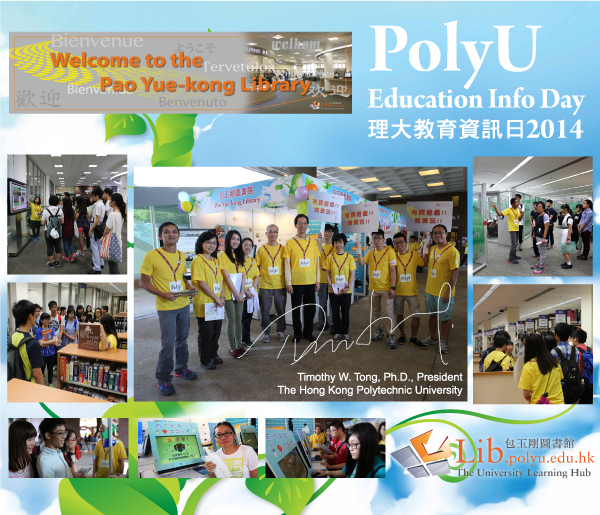 ---
Enhanced Topical Research Guides are now available on the Library Homepage. Some highlights:
Subject headings are linked up with OneSearch to facilitate retrieval of materials on various formats
Diverse selection of internet resources