Featured Resources for Faculty of Construction and Environment
ICE Virtual Library contains full-text of journal articles, conference proceedings and books published by Institution of Civil Engineers (ICE), who provides information for researchers and practitioners worldwide in the fields of civil engineering, construction and material science.

Discover articles, e-books, case studies and conference proceedings in your specialist area of interest. Make use of the filters on the sidebar to refine your searching results!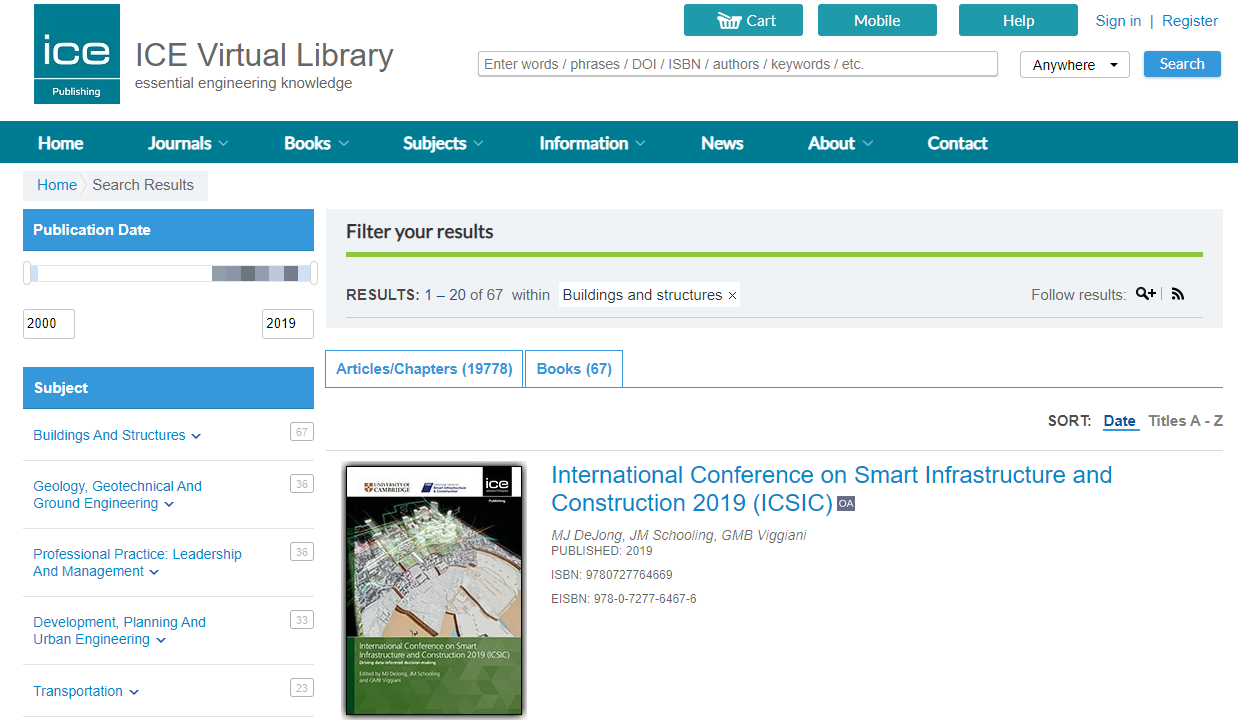 Online Resources from ICE
Institution of Civil Engineers also offers lots of resources to support your professional development. This includes recorded lectures, latest case studies, best practices, and many other training materials. Please take this chance to read and learn more about what the practitioners do in this field!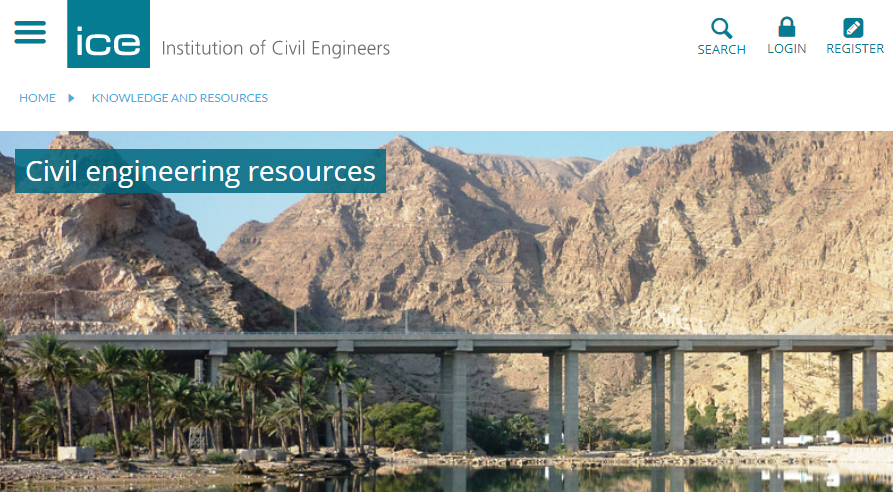 Here are a few sites we would like to highlight to you:
More Open Educational Resources in Construction and Environment
There are enormous high-quality free educational resources around the world. To facilitate the discovery, sharing and integration of these materials in your own teaching and learning activities, we have launched a portal to collect the resources that are of quality and relevant to your courses and subjects. Feel free to explore at
our OER portal
to find courseware, MOOCs, videos and many more!
Do
let us know
if you have good resources to share too, and we will constantly expand this collection for the benefit of all our students and staff.
​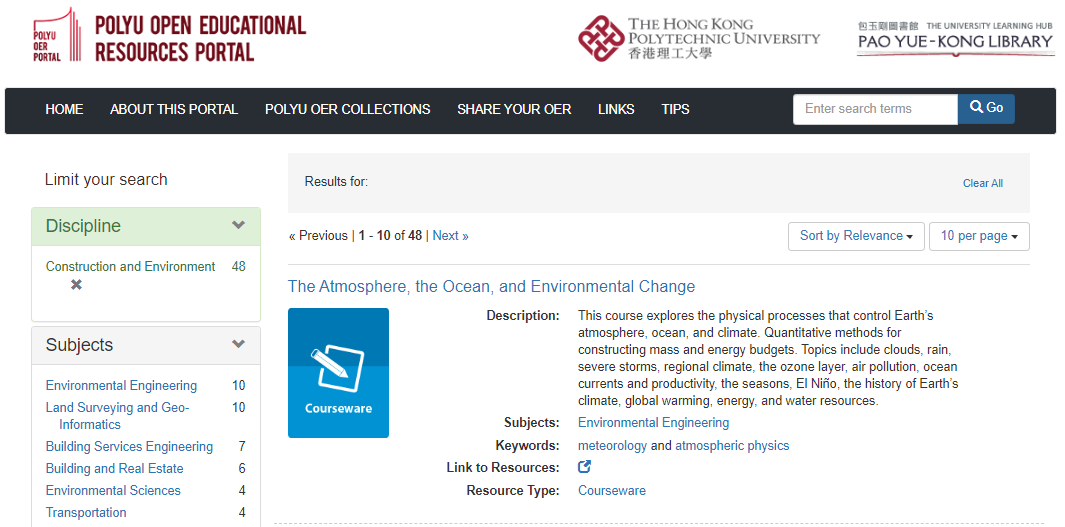 Media Resources
[TH145 .B83 DVD] (To request this DVD, please visit the page of Physical Resources Retrieval Service.)
"Buildings old and new create the physical environment in which we live, work and play. This episode looks at the cutting edge techniques involved in restoration, eco friendly housing and more. Technology is helping to achieve some remarkable feats in the industry, from aiding the completion of the Sagrada Familia to building relocations and providing tools towards creating a sustainable industry. Rotating buildings are being designed and subways constructed under heritage cities, all due to the innovations of our time and its application to complex projects. This is one industry that is embracing technology to its full and giving workers across the arena the tools to achieve."– from the website of World Wide Entertainment.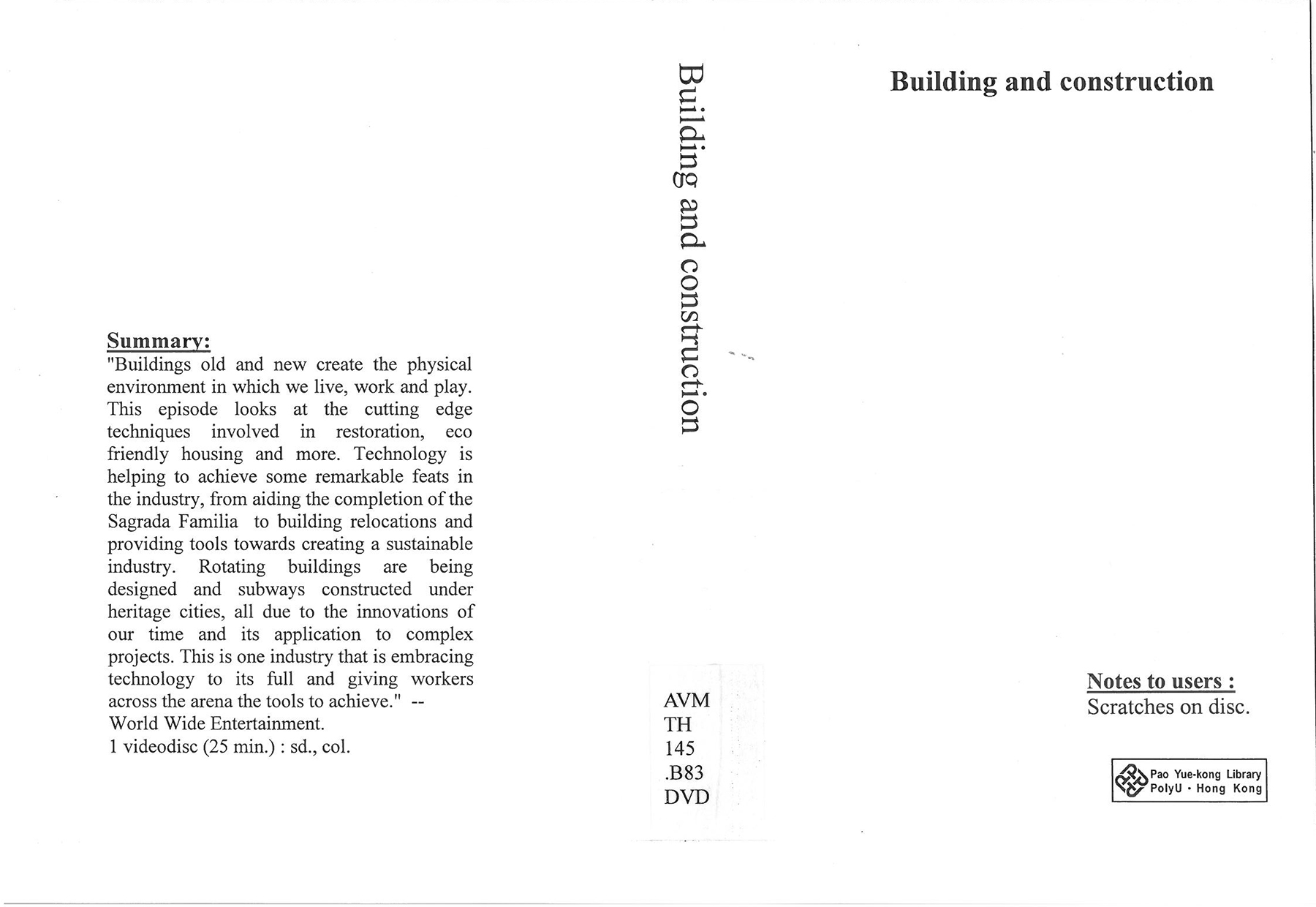 [TS171.4 .D465 DVD] (To request this DVD, please visit the page of Physical Resources Retrieval Service.)
"The way in which products are made and the effects of the manufacturing process on the environment around them are fast becoming the most important considerations when a product or service is designed. A range of factors including global warming, increased population, higher energy consumption and waste, diminishing natural resources and better consumer awareness are driving this shift in design innovation. In this program we take a closer look at the environmental impact of design with a special emphasis on architecture, household goods, and how certain industries are embracing a more sustainable, eco-friendly approach to design."—from cover of the DVD container.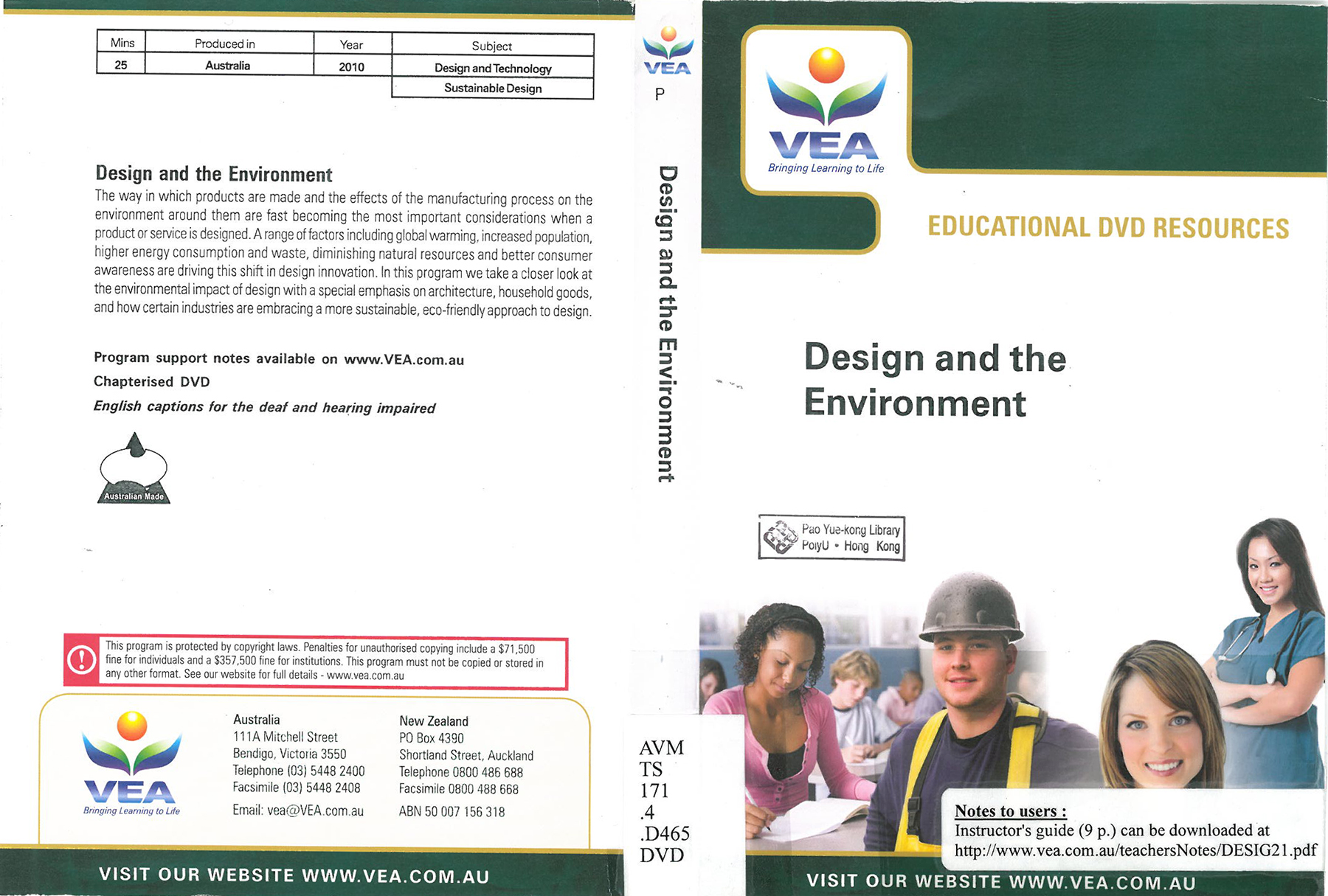 [TD196.B85 E42 DVD] (To request this DVD, please visit the page of Physical Resources Retrieval Service.)
"Engineers increasingly need to know more about the environmental performance of the construction products used in their designs, but there is a concern that comparisons between alternative materials, products and systems are not based on comparable data. This is further compounded by conflicting claims and counter claims by competing suppliers keen to position their offering as the preferred solution. This programme aims to help those who wish to understand more about how the environmental performance of construction products should be calculated."—from the Publisher's website.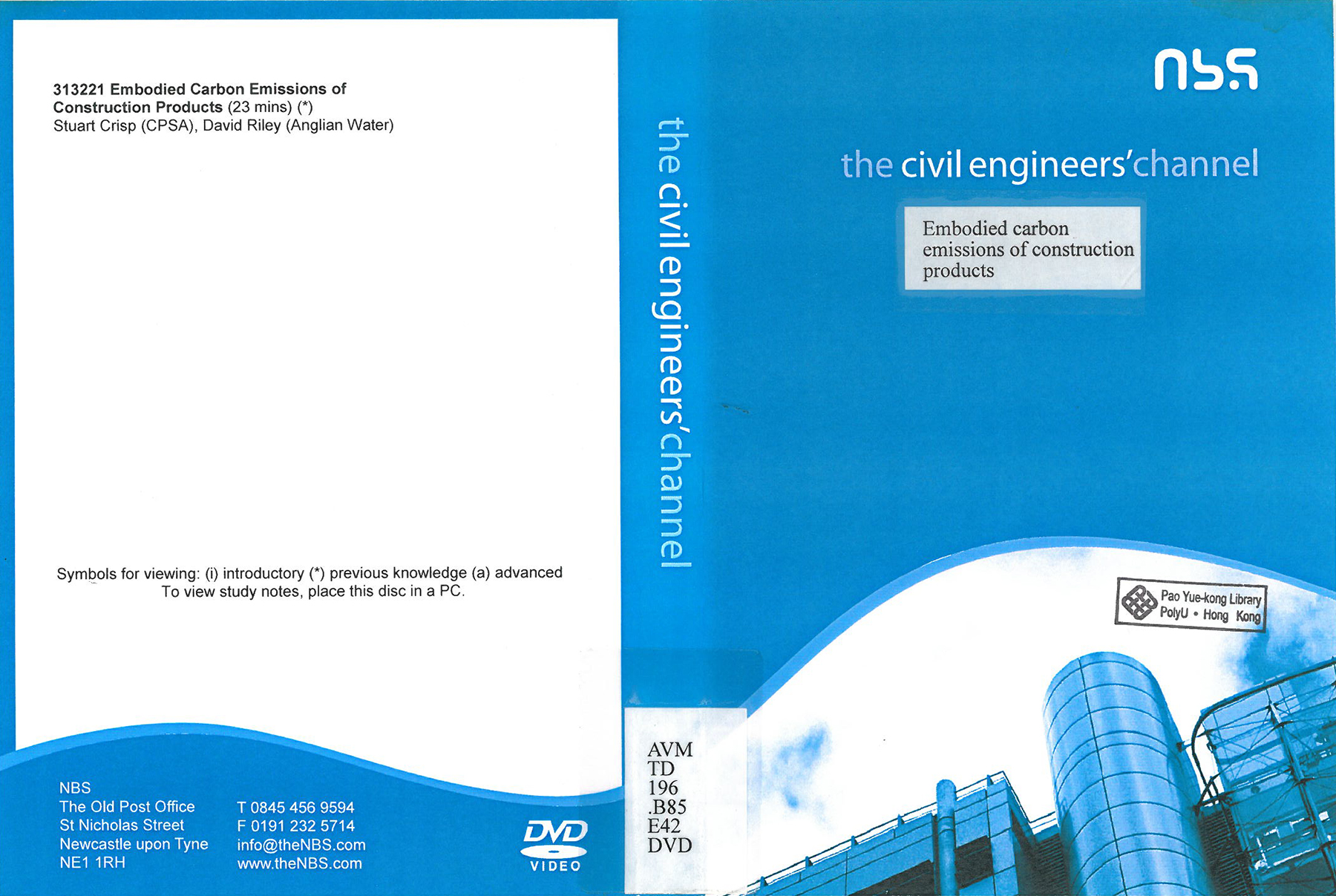 New Additions & Trial Databases