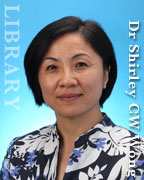 Managerial responsibility over all functions relating to the Library, including strategic development, management and advancement of the Library.
Dr Shirley Chiu-wing Wong obtained her Bachelor of Science, Postgraduate Certificate in Education (with Distinction) and Advanced Diploma in Education (Psychology of Student Learning) from The University of Hong Kong. She was awarded the Li Po Chun Charitable Trust Fund Overseas Postgraduate Scholarship for pursuing a Master of Arts in Library and Information Studies at University College London, and she received her doctoral degree in education from The Chinese University of Hong Kong.
Dr. Wong has been the University Librarian of The Hong Kong Polytechnic University (PolyU) since July 2012. She leads a team of innovative and dedicated Library staff to connect the PolyU community to a broad array of quality information resources and research services. In response to the paradigm shift in teaching and learning, the team provides services and facilities conducive to active learning and academic exchange. The PolyU Library, with its e-preferred acquisition policy, is becoming less as a space filled with book stacks, but more as a flexible learning place where users actively construct their own knowledge, individually or in a group. It is the place where students learn and reflect, develop their critical thinking, and engage in a collaborative learning process. In 2015/16, there were 2.9M of entrance counts, the highest among all academic libraries in Hong Kong.
Dr. Wong has extensive library professional and administrative experiences, especially in instruction on effective and ethical use of information, transforming library space, providing user-centered user experience and research support services. She had worked at The Chinese University of Hong Kong Library for many years and had responsibility there for library user services, the library website, the library extension building project, and the development of learning commons and research commons. She was also in-charge of the information literacy assessment tool and the associated courseware of the Student IT Competence Programme mandatory for all undergraduate and postgraduate students, and developed the online courseware "Observing Intellectual Property and Copyright Law during Research" compulsory for all research students.
In Hong Kong, Dr. Wong has been the Chair of the Hong Kong Joint University Librarians Advisory Committee (JULAC) Learning Strategies Committee since 2012 and a member of the Hong Kong Sheng Kung Hui Archives Advisory Committee. She was the Chair of the JULAC in 2016/17, the Chair of the JULAC Copyright Committee in 2008-2012, the Chair of the JULAC Committee on Reference Services in 2005-2007, and the Secretary to and member of the then Heads of Universities Committee (HUCOM) Task Force on Copyright in Education in 2005-2012.
Dr. Wong is the principal investigator of the three-year project funded by the Hong Kong University Grants Committee (UGC) and participated by all eight UGC-funded universities. The project aims to enhance information literacy (IL) among university students by developing and implementing a shared interactive IL online courseware, which has been delivered as a MOOC (Massive Open Online Course). In order for the IL MOOC content to be relevant to students and their context, specific educational needs for information literacy among Hong Kong university students have been surveyed and assessed to form a knowledge base, to guide the development of the evidence-based IL MOOC and a self-assessment tool. In the IL project, "Course Enhancement Funds" are also provided to individual subject courses to embed information literacy elements into them. To deepen the information literacy embedment, a professional training programme has also been organised to aid librarians from all eight universities in building collaborative partnerships with faculties.
Dr. Wong is the Vice Chair of the Asia Pacific Executive Committee of OCLC. She was a member of the Broad of Directors of the International Association of University Libraries (IATUL) from 2014 to 2017, and a member of the Copyright and Other Legal Matters Committee of the International Federation of Library Associations and Institutions (IFLA) from 2009 to 2017.