理大同學作品榮獲「品書知日本」2018全國徵文大奬賽二等獎
「品書知日本」全國徵文大奬賽近日公佈決賽結果,本校紡織及服裝學系王宇翔同學,憑藉作品《亞洲一體化與岡倉天心》在全國賽中榮獲二等獎。

由上海交通大學圖書館和日本科學協會聯合主辦,「品書知日本」全國徵文大奬賽旨在鼓勵全國包括港澳地區的大學生通過閱讀各類與日本相關的書籍,撰寫論文、感想、體會等形式的文章,激發大學生對日本社會、經濟、文化等各方面瞭解和研究的興趣。

按照大㑹要求,理大首先在暑假期間進行全校初賽選拔,經由中文及雙語學系及包玉剛圖書館所組成的評審委員會評分後,推薦兩位同學參予全國總決賽。全國賽的競爭十分激烈,有來至北京大學、復旦大學、南京大學等數十所高校的優秀作品參予,評選出一等獎5名,二等奬10名。

本館再次恭賀王宇翔同學在全國賽脫穎而出,奪得佳績﹗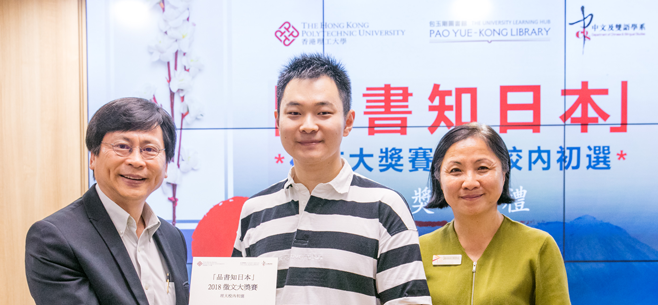 左起:李楚成教授 (中文及雙語學系系主任)、王宇翔同學、黃朝榮館長
PolyU Student Won the Third Prize in the EconBiz Student Competition 2018
Ms Katherine Yang from School of Accounting and Finance won the third prize of the 6th EconBiz Student Competition organized by the German National Library of Economics / Leibniz Information Centre for Economics (ZBW).

Since the PolyU Library joined the EconBiz Partner Network in 2014, we have invited our students to take part in the EconBiz Competition every year. The winners demonstrated a high level of research proficiency in order to win the Competition. Congratulations to Katherine!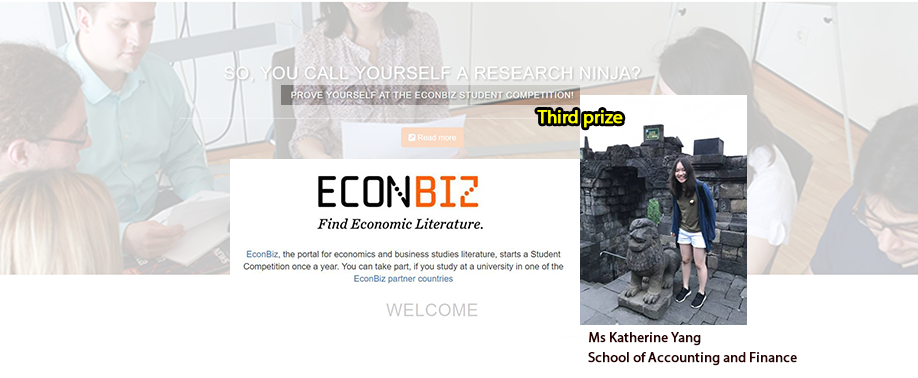 InfoLit Project Shortlisted for QS Reimagine Education 2018 Award
The UGC-funded Teaching and Learning Project on
Information Literacy (InfoLit)
was recently shortlisted for the internationally acclaimed
Quacquarelli Symonds (QS) Reimagine Education 2018 Award
under the Hybrid Learning Award category. Led by the PolyU Library, the InfoLit Project is a joint effort by all eight UGC-funded university libraries to help students develop information literacy habits and practices needed for inquiry-based learning in the university setting.
Dubbed as the 'OSCAR' of Education, Reimagine Education is a global contest co-organised by Wharton School at the University of Pennsylvania and the QS Quacquarelli Symonds, rewarding creative approaches at improving teaching delivery, learning outcomes and graduate employability.
This year, over 1,180 applications from 39 countries competed for awards in 16 categories, with 100+ independent judges to evaluate the submissions. Getting shortlisted is an incredible endorsement for the success to this Project.
One major delivery of this Project is
InfoLit for U (MOOC)
, a self-paced, non-credit bearing Massive Open Online Course that helps undergraduate students understand how to use information analytically, creatively, and wisely to learn. Let's enroll for the
course
NOW!