Congratulations to the Winners of READ@PolyU Video Contest
In Oct 2016, the Library organized the READ@PolyU Video Contest to encourage students to share their love and passion of reading within the PolyU community. Great thanks to all the participants who submitted the 1-minute video to talk about their wonderful experience. After reviewing of all the works, the READ@PolyU Video Contest Committee is pleased to announce the winners below. Let's hear what they said about READ@PolyU -- the attitudinal change towards reading, the essential life lessons learnt, and much more. May the joy of reading spread across the campus!
Champion
CHU Ka Leung (HTI)
It's More than Reading
1st Runner Up
LUN Wing Yiu (FENG)
First Person Experience in READ@PolyU
2nd Runner Up
MARAKKARAKATH NECHAT Fajr Mohamed (SD)
Book that Opened Hong Kong
2nd Runner Up
LIU Junyao (ENGL)
Reading Stays with You
2nd Runner Up
LEE Wing Wun (RS)
Make Yourself a Better Youth
---
JULAC Information Literacy Project
Enhancing information literacy in Hong Kong higher education through the development and implementation of shared interactive multimedia courseware (2015-2018)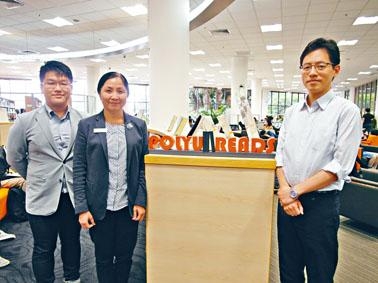 This UGC T&L Project on Information Literacy aims to enhance information literacy among students in UGC-funded institutions by developing and implementing a shared interactive multimedia courseware, so as to foster their capacity to use information to learn, and to build students' awareness of themselves as informed learners.
Dr Shirley Wong, University Librarian, Principal Investigator of the Project, Mr William Ho, Section Head (User Experience & Outreach) and Dr Johnny Yuen (Project Fellow) were interviewed by Sing Tao Daily regarding this exciting project, the first of its kind in Hong Kong!
For details, please click
here
or visit the
Project Website
.