The Library continues to improve the environment to accommodate users' needs. A number of space enhancement works have been completed over the last few months.

G/F Discussion Zone 1 – Renovation
Group Study Rooms
Four group study rooms (L019b-e) have been built in the former Photocopying Unit area and are available to users for online reservation on iBooking since late October. The LED monitors provided in the rooms can be connected to users' computer devices for presentation or discussion. Tables with video display installation are also provided outside the group study rooms to facilitate group discussions.


Open Area for Group Study (Room L019)
Room L019 has been converted into a truly Discussion Zone since last summer. A variety of furniture, including high tables, group study tables, carrel seats and active sitting stools, are provided in this newly revamped area to support the different needs of users. Computer workstations are provided in different regions of the room for web navigation and information search. More power outlets will be added in this summer to support the use of portable devices.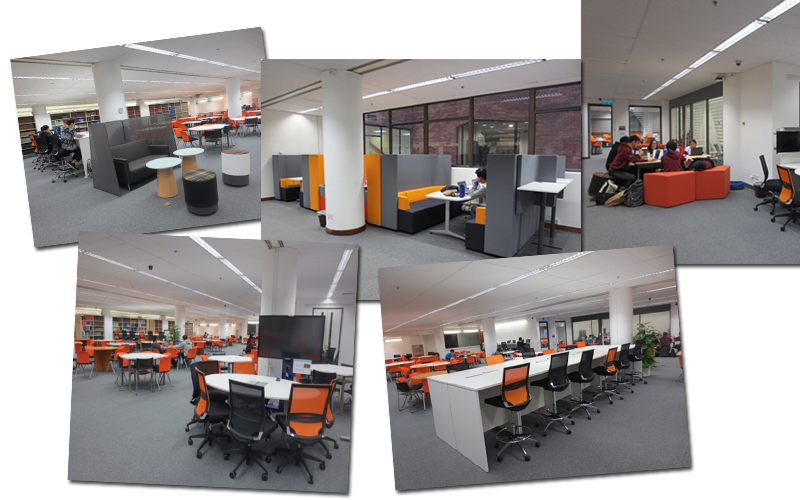 Connect Place (Room L017)
To support new pedagogies and learning activities, the formerly Teaching & Learning Lab 3 has been refurbished and renamed as "Connect Place", providing a flexible study area to facilitate users to connect and share their ideas. The new chairs with tablets not only facilitate individual study but also allowing users to quickly form a group during classes or for discussions. More power outlets have been installed on the floor to support the use of portable devices, and the built-in tablets are able to hold the devices and free up space for other learning materials. Connect Place is open to users when it is not occupied by Library events or workshops.


---
Quiet Study Zones on 4-5/F - Renovation

Besides providing more collaborative study area, the Library has also refurbished the quiet study areas in Room L401 (4/F) & Room L501 (5/F), with over 200 power sockets added in these two areas. New study tables are now provided in Room L401 to replace the old and heavy tables, and new private study carrels are available in both Room L401 and L501. Task lighting and power outlets are provided in both study tables and carrels. The Library will continue to renovate other quiet study areas in future, where funding allows, to provide a contemporary and comfortable environment to users.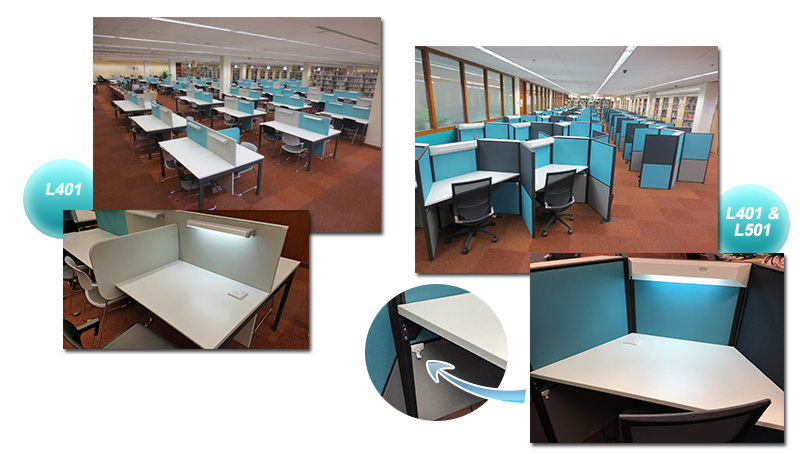 ---
Compact Shelving in G/F Discussion Zone 2 (Room L010)– Safety Upgrade

Compact shelving has been installed in Room L010 since May 2015 for housing closed stack materials and low-use materials. To further enhance the safety of the compact shelving system, the Library has added more motion-detection infrared sensors along the shelving.


---
End Panel Installation on 1/F, 4/F and 5/F

To improve the outlook of the shelving areas, end panels have been added to all book shelves in the Library. Shelve guides showing the range of call numbers are clearly indicated on the end panels. The panels will also be made use for hanging promotional materials and book displays.