Lucky Draw - Library Survey 2015
Thank you to those of you who provided invaluable comments in the Library Survey from 27 Oct to 9 Dec 2015. All participants were entered into the lucky draw for fabulous prizes, including iPad Mini 4, Apple Watch, Samsung Galaxy Tab S2, and Book Vouchers. The prize presentation ceremony was held on 29 Dec 2015. Congratulations to the following prize winners!

Name
Prize
Miss HAN Xuebing
iPad Mini 4 16GB Wi-Fi
Miss YIP Wun Ting
Apple Watch Sport 38mm
Mr. CHEUNG Chun Sing Johnson
Samsung Galaxy Tab S2 8.0" 32GB (Wi-Fi)
Mr. LEE Calvin
Miss SHIM Eun
Miss SO Oi Yee
Mr. TSENG Pao Yuan Thomas
Miss CHAN Ho Yan
$200 Book Voucher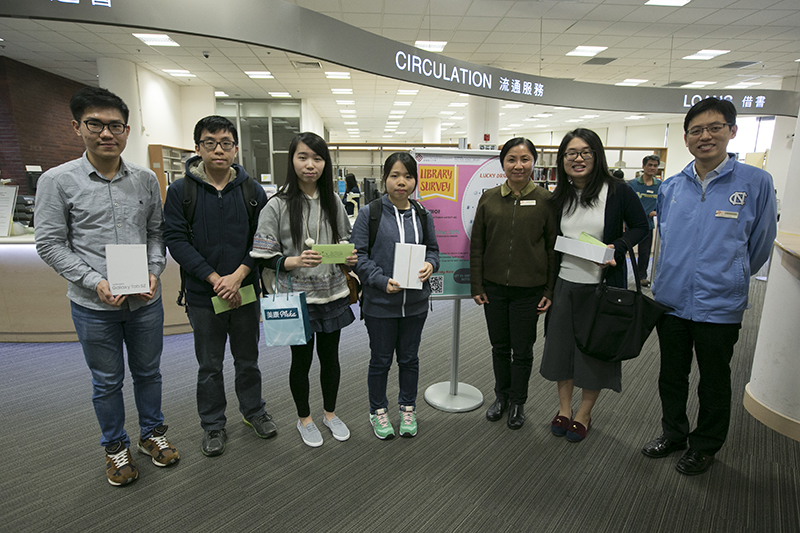 ---
Special Award in the First National Case Study Competition - READ@PolyU Common Reading Programme
The Library's READ@PolyU Common Reading Programme has won the Special Award in the First National Case Study Competition on Promoting Reading in China Academic Libraries. The competition was organised by the Ministry of Education of China, Steering Committee for Academic Libraries - Reader Service Innovation and Promotion Working Group.
A total of 456 academic libraries participated in the event, among them, were from some of the most prestigious universities in China, including Tsinghua University, Peking University, Shanghai Jiao Tong University, Sichuan University, Wuhan University, and so on. Representing PolyU, Mr William Ho, Section Head (User Experience & Outreach), and Ms Mei Li, Section Head (Collection Development) gave a live presentation and prepared a video to introduce the READ@PolyU programme to over 200 panel members in the competition's final round at the Central China Normal University on 16 Oct 2015.
In 2010, in order to promote a holistic development among students, the University set up a READ@PolyU Programme Committee to steer the development of promoting a reading culture across the campus. The Committee is co-chaired by University Librarian and Director of the English Language Centre, with staff members nominated by academic departments as well as student representatives, to ensure the programme meets the student's needs.
READ@PolyU programme has distributed a free copy of English fiction to full-time first-year undergraduate students since 2011. PolyU students could also participate in a series of activities centered on the theme of the common book, including discussion groups, to share their opinions and experiences with faculty members and fellow students.
Being the first campus-wide reading programme of its kind in Hong Kong, we are extremely happy to receive the Special Award in recognition of our focused effort in promoting a reading culture at PolyU via a multi-pronged approach to reach our target audience (full-time first-year undergraduates). Hong Kong University Libraries and Macau University Library also won the Special Award in the Competition. The event was a good opportunity for knowledge exchange with a large number of China academic libraries on best practices and strategies in designing and implementing innovative solutions to promote a reading culture.
Further details can be found at
http://conference.lib.sjtu.edu.cn/rscp2015/
.