Featured Library Resources for School of Hotel and Tourism Management

Hospitality & Tourism Complete
This collection contains more than 1.18 million records, with coverage dating back to 1938, with full text for over 520 publications, including periodicals, company & country reports, and books.
Sources are from the USA and the World in range and scope, with material collected from countries and regions such as Canada, Australia, Europe, and Asia. Publications include Hotel & Motel Management, Journal of Leisure Research, Nation's Restaurant News, Restaurants & Institutions, and many more.
Major coverage includes demographics and statistics, development and investment, food and beverage management, hospitality law, hotel management and administrative practices, leisure and business travel, market trends, technology and more.
Please click
here
to access this invaluable resource for your research and learning needs.
The Premier Collection of Scholarly Research and Industry News Relating to All Areas of Hospitality and Tourism
AV Materials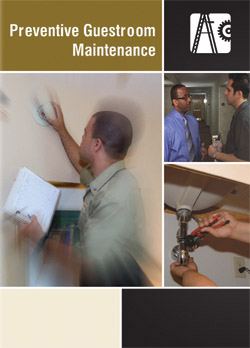 Preventive Guestroom Maintenance
[TX911.3.M27 P738 DVD]
This DVD program features the latest, updated techniques and strategies for handling guestroom inspections and repairs in hotels. Viewers will learn about common inspection items, including doors and locks, sprinklers, Internet connections, HVAC units, drapes and windows, bathroom fixtures, and mini-bars. The program also covers an overview of several basic repairs, including shower heads, ceilings, faucet leaks and drips, caulk and grout replacement, damaged carpet, and damaged wallpaper or drywall.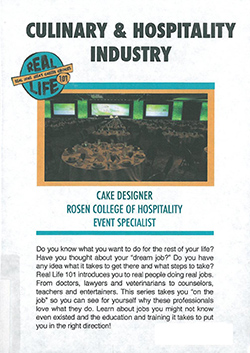 Culinary & Hospitality Industry
[TX911.3.V62 C84 DVD]
This program introduces a cake shop where the owner shares with why she loves creating designer cakes for her customers. The program also shows the Rosen College of Hospitality and that the career future is bright for those interested in serving travelers in hospitality and tourism. For those interested in event planning, the program introduces an event specialist who spends her time planning her company's big corporate affairs.
e-Resources on Trial
Bloomsbury e-books Collections
[Expiry: 21 Dec 2015]
Bloomsbury Collections include scholarly monographs and elite collections in the humanities and social sciences published by Bloomsbury's Academic Division.
IEEE eLearning Library
[Expiry: 31 Dec 2015]
It is an online collection of short courses and conference workshops offering over 400 courses in core and emerging technologies. The collection of courses is delivered through the IEEE Xplore Digital Library, providing streamlined access to other Library subscribed content on the same platform.
Practical Writing : Writing for Life
[Expiry: 13 Feb 2016]
It is a new online English course produced by Clarity English. This course was designed for Intermediate to Advanced level learners who need to improve their academic writing skills (e.g., essays, reports, taking notes, avoiding plagiarism) and their writing for life (i.e., emails, official letters, online profiles for job application or a college place, etc)
Note: Please click "Start" to begin the trial, no login required.