Library Workshops and Online Courses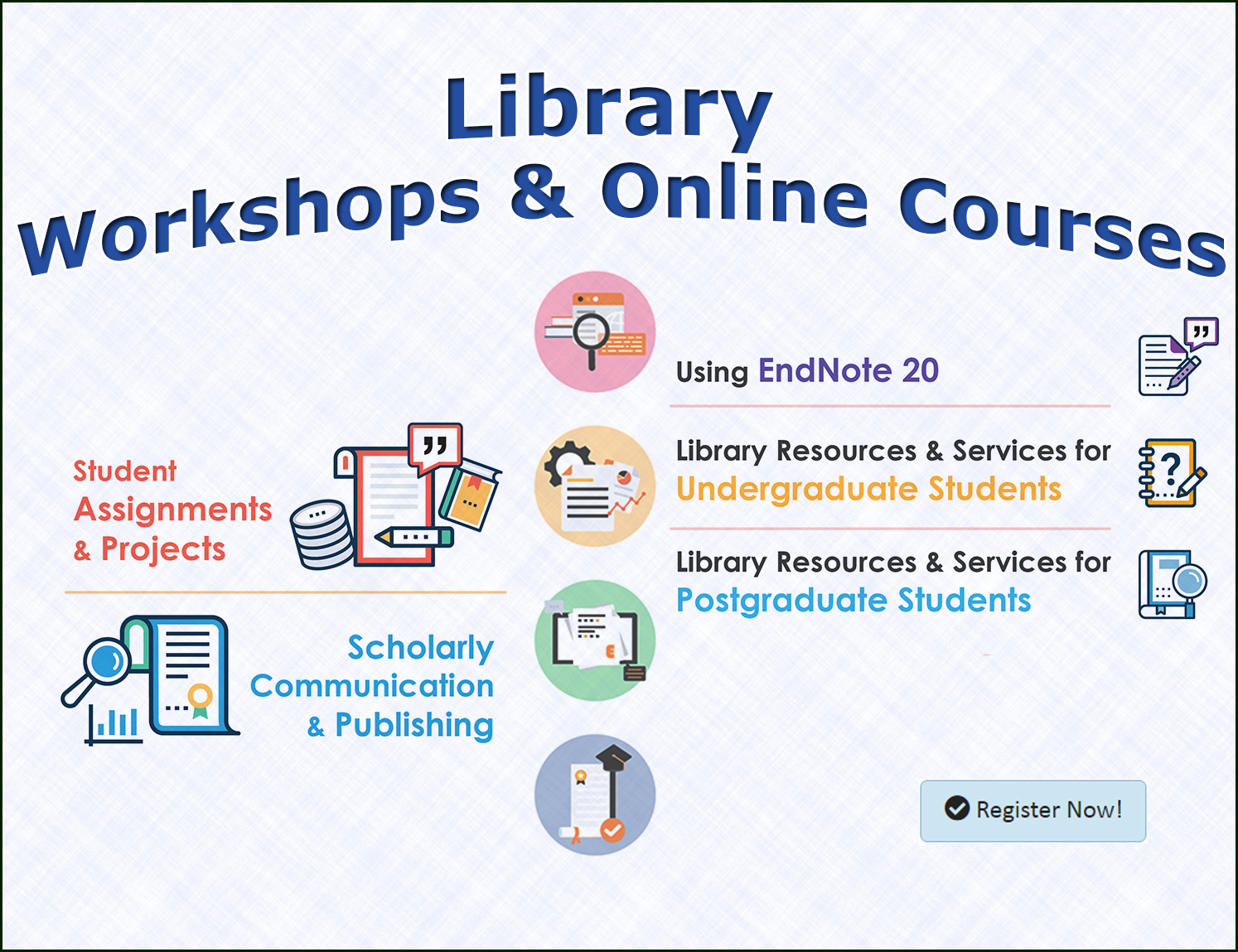 September 1, 2021
Another new academic year is about to start. To support the learning and research needs of students and staff, the Library continues to offer three online courses and will conduct a series of workshops in hybrid mode.
Library Online Courses

The Library has developed three self-paced online courses on Learn@PolyU to help students get started with their study and research.

Library Resources and Services for Undergraduate Students (6 Modules)

Library Resources and Services for Postgraduate Students (6 Modules)
Tailored for undergraduate and postgraduate students, respectively, both courses are designed to equip students with the most essential skills and knowledge to conduct research for assignments and research projects.
Using EndNote (8 Modules)
Designed for both students and staff, the course aims at helping researchers learn the key features of EndNote, a reference management tool for citing and organising references used in the assignments and research works.
Registration is now open! Click here to learn more and enrol!
Library Workshops

In addition to online courses, the Library also organises a series of interactive workshops throughout the semester. Most of the workshops will be conducted in hybrid mode.

Workshops to Support Student Assignments and Projects:

Library Resources for CAR Subjects
Citing References and Avoiding Plagiarism
Disciplinary Trainings in Business and Finance; Hotel, Tourism, and Events Management; and Health Sciences
Library Database Trainings: Westlaw Asia, Cochrane Library, Bloomberg

Workshops to Support Scholarly Communication and Publishing:

Citation Databases – Web of Science and Scopus
Using Journal Analysing Tools to Evaluate Journals
Using Essential Science Indicators to Analyse Research Performance
Using SciVal to Identify Research Potentials
Publishing 101

Registration for September workshops is now available here. Do keep a look out for our emails and website announcements on coming workshops!

Wish to take a look at our previous workshops? Visit the Handouts and Recordings page to check out the slides and recordings.

Have questions about Library Workshops? Contact us via email at lbinf@polyu.edu.hk.