READ@PolyU: Rediscover the Joy of Reading Together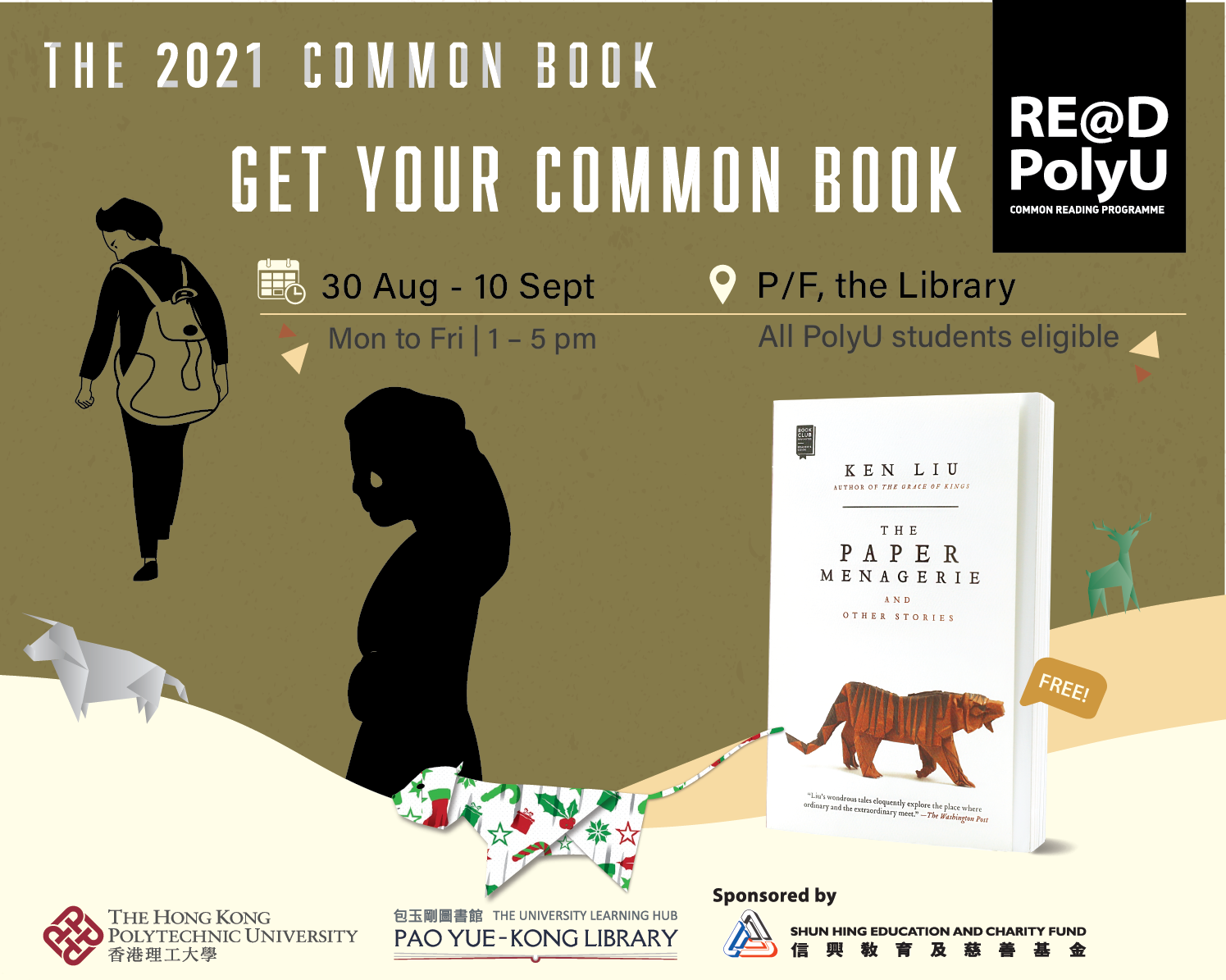 September 1, 2021

READ@PolyU is a community reading project of PolyU. Each year, we select a common book and invite the whole campus to read along. Our vision is to build an empathetic, creative, and courageous community of learners and global citizens for whom reading is a source of knowledge and creativity.
About our Common Book


The 2021 Common Book, The Paper Menagerie and Other Stories, is a collection of award-winning short stories by speculative fiction writer Ken Liu.

The title story, Paper Menagerie, tells a moving story of family love, immigrant struggles and cultural identities, with magical realism. This is the first story in history to sweep all three major literary awards: the Hugo, Nebula, and World Fantasy Awards.
Book Distribution*

Date: 30 August – 10 September 2021

Pick up your free copy of the common book at Library's Podium Floor in Week 1-2, 1.00 pm to 5.00 pm (Mon to Fri).

Alternatively, access the ebook or e-audiobook available in our Library.
Book Chat Groups*

Date: 13 September – 8 October 2021

Share your reading experience in a Book Chat Group! Each group will meet three times throughout Week 3 to 6. Let's make new friends and develop soft skills during the thought-provoking discussion. Sign up NOW!
Book Exhibition – Fantasy Fiction

Date: 20 September to 30 October 2021

Immerse yourself in the world of fantasy fiction from Harry Potter to Game of Thrones, and borrow your next great read from the featured exhibition that will be held online and physically on the Library Podium Floor.
For more information, refer to READ@PolyU programme website at https://www.lib.polyu.edu.hk/read.
* For PolyU students only