Virtual Reality (VR) and Augmented Reality (AR) Contest 2022/23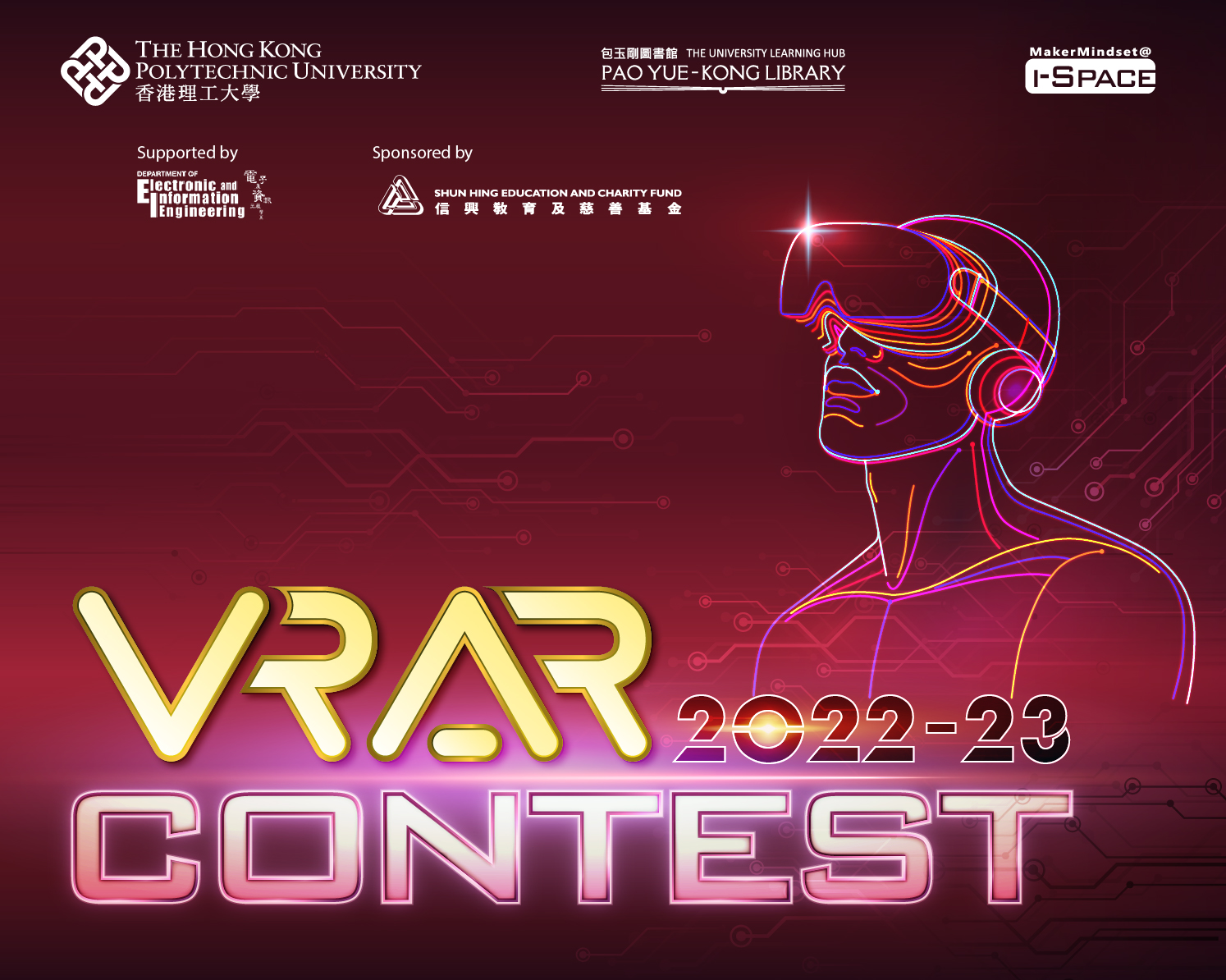 September 1, 2022
The fifth Virtual Reality (VR) and Augmented Reality (AR) Contest is now open for applications! The VR/AR Contest is an annual competition organised by the Library for students from different disciplines to explore the possibilities offered by emerging technologies. This year, the contest encourages participants to use their creativity to apply the VR/AR technologies in the PolyU context.
Through our dedicated series of workshops and seminars, you will learn the tools and resources to embark on VR/AR game or application development. At the beginner level, you will acquire the essential skills in creating basic 3D modelling, and next, you will learn about programming with the VR/AR development platform at the advanced level. More details of the related workshops or seminars will be available soon. Stay tuned!
Visit the VR Experience Zone at i-Space, 4/F North Wing, and book a session to try the past contestants' applications/games to find inspiration.

Don't miss the chance to learn about the contest timeline and submission guidelines in the upcoming briefing session:
Date: 23 Sept 2022 (Friday)
Session: 3.00-3.30 pm
Venue: Online via Zoom OR Digital Visualisation Room, i-Space, 4/F, Library
Registration is now open!
Grab the chance and turn your brilliant ideas into "virtual" reality!

Winners for the Virtual Reality and Augmented Reality Contest 2021/22
The fourth Virtual Reality and Augmented Reality Contest 2021/22 was successfully completed in July 2022 with support from the Department of Electronic and Information Engineering (EIE).
Congratulations to the winners of the contest!
Award
Project Title
Participant
Champion
AR-enabled Smart Building Energy Management Platform
CHEN Zhe (BEEE)
CHEN Zhijie (BEEE)
LI Ao (BEEE)
ZHANG Hanbei (BEEE)
ZHANG Jing (BEEE)
ZANG Xingyu (BEEE)
1st Runner-up
VR Application for Stroke and Aphasia Patient
WU Chun Hung (COMP)
2nd Runner-up
MODAR
TSOI Tsz Kin (HTI)