Popular Online Databases for Your Study, Teaching and Research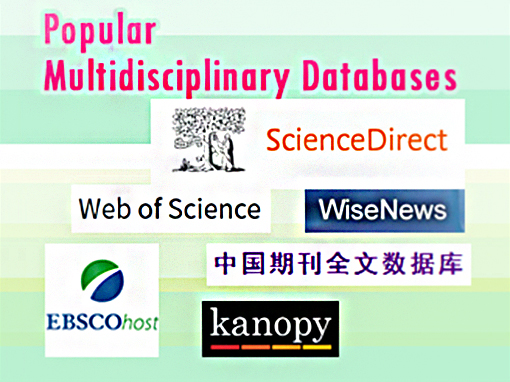 September 9, 2019
Not sure where to get started with your searching for library resources? Don't worry. Some popular databases that cover a wide range of subjects and topics may be useful for your study and research, e.g. EBSCOhost, Science Direct, Web of Science, WiseNews (電子剪報), 中國期刊全文數據庫 (CAJ Full-text Database (CNKI)) and Kanopy. Try these multidisciplinary databases through Library homepage now!
EBSCOhost
EBSCOhost provides full text of a large collection of journals, e-books, market and industry reports as well as newspapers in various disciplines. Our Library has subscribed to around 30 databases hosted by EBSCOhost. Through the platform, you can do cross-searching among these databases at ease. Some popular databases available in EBSCOhost are listed in the table below:

Subject coverage: Accounting & Finance, Business, Construction & Environment, Economics, Engineering, Humanities, Language & Linguistics, Mathematics & Statistics, Medicine & Health Science, Physical Education, Psychology, Social Sciences, Tourism & Hospitality Management, etc.

ScienceDirect
ScienceDirect is a collection of scientific peer-reviewed articles accessible through the Internet. It contains the full-text of over 3,400 journals of Elsevier journals and over 3,200 e-books in a wide range of subject fields.
Subject coverage: Health Sciences, Life Sciences, Physical Sciences and Engineering, Social Sciences and Humanities, etc.
Web of Science
Web of Science Core Collection is a citation index for scientific and scholarly research. It enables users to search over 21,000 peer-reviewed, high-quality scholarly journals published worldwide (including Open Access journals) in over 250 science, social sciences, and humanities disciplines. Conference proceedings and book data are also available.
Citation Databases:

Arts & Humanities Citation Index (A&HCI):1975 – Present
Conference Proceedings Citation Index- Science (CPCI-S):1990 – Present
Conference Proceedings Citation Index- Social Science & Humanities (CPCI-SSH):1990 – Present
Emerging Sources Citation Index (ESCI): 2015 – present
Science Citation Index Expanded (SCI-EXPANDED):1970 – Present
Social Sciences Citation Index (SSCI):1970 – Present

Subject coverage: Art, Humanities, Science and Social Sciences
WiseNews (電子剪報)
WiseNews provides full-text articles in Chinese or English from over 1,100 newspapers and magazines, Websites from China, Hong Kong, Macau, Taiwan, and the United States. It is updated daily to include today's news. Please note that South China Morning Post

is not available on WiseNews.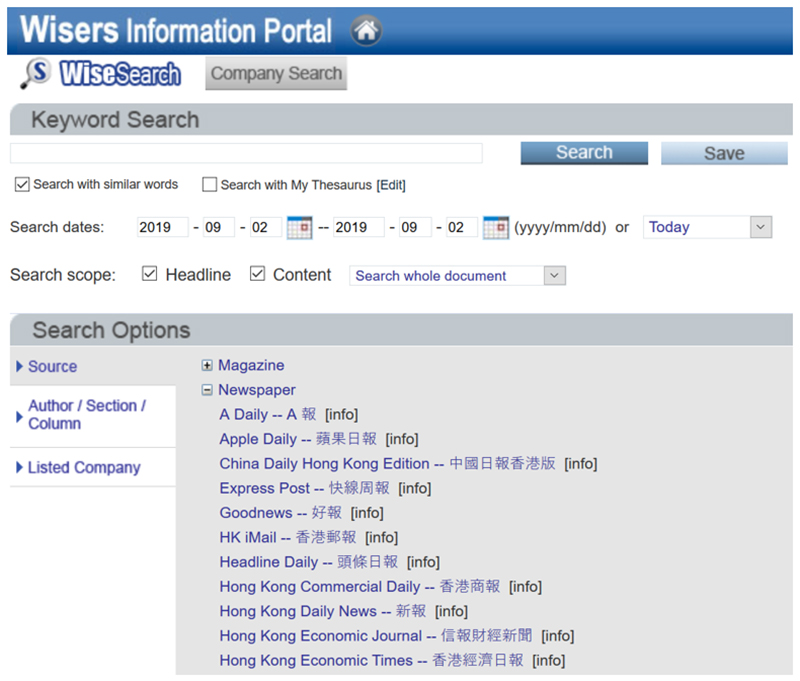 Subject coverage: Economy, Education, Finance, Government, Physical Fitness, Public Administration, Science, Social Science, Society, Sports and Technology.
Subject coverage: 哲學與人文科學、經濟與管理科學、醫藥衛生科技、電子技術及資訊科學、理工、教育、社會科學、政治軍事及法律等。
Kanopy
Kanopy is a video streaming platform with a collection of over 26,000 films from 800 producers such as New Day Films, California Newsreel, Media Education Foundation, The Great Courses, Stanford Executive Briefings, Video Project, Ronin, Village Roadshow, etc.

Subject coverage: Design, English Literature, Health & Social Sciences, Humanities, Nursing, Psychology, Social Sciences (General), Social Work.