Popular Online Library Guides to Support Students' Learning and Research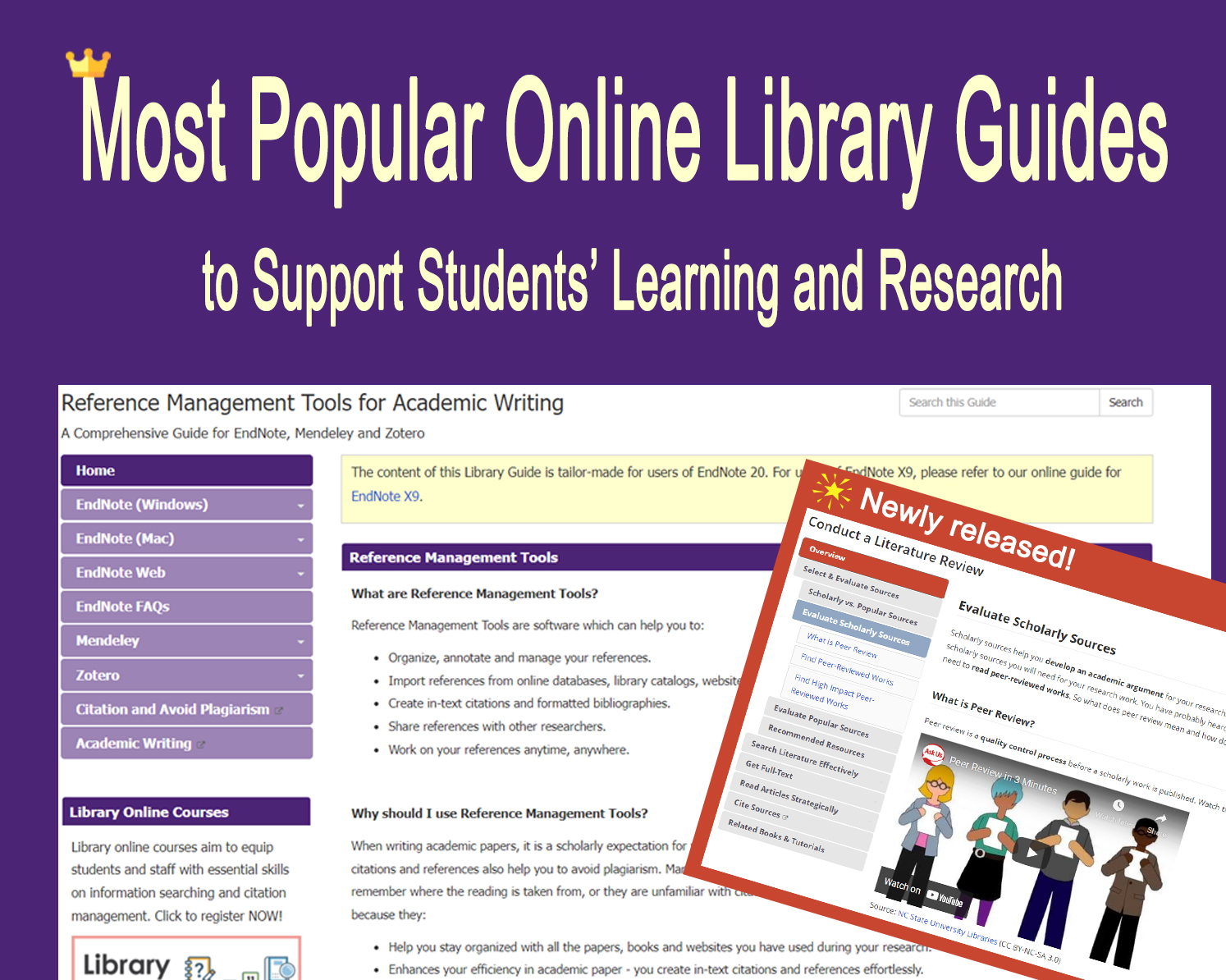 February 9, 2022
Be it subject guides or guides like Citation & Avoiding Plagiarism and Research Data Management, many of you would have used some of the guides created by the Library to help you in different aspects of your study or research.
But do you know which are our most popular guides? Which online guide attracted the most views in 2021?
Top Viewed Online Guides in 2021

Top 1
Reference Management Tools for Academic Writing
Attracted about 1,800 views per month in 2021! Learn how to use EndNote, Mendeley and Zotero to cite and manage citations and references for academic works.
Top 2
Online Tools for Assignment
Discover easy-to-use online tools with step-by-step instructions for your assignment, e.g. free data visualisation tools without coding.
Top 3
Systematic Search for Systematic Review
Find quality resources to locate and conduct systematic reviews, learn how to formulate a research question using PICO, and how to manage search results using EndNote.
Top 4
Citation & Avoiding Plagiarism
Learn what plagiarism is and how to avoid it, the available citation guides and plagiarism checking tools for students and staff.
Top 5
Library Guide for PolyU Freshmen
Top things every freshman should know about Library to get started in their learning journey at PolyU.
Check out these top guides now! Perhaps you can find something useful for yourself too!
Guide to Conduct a Literature Review: Newly released!
Conducting a literature review is an important step when preparing for your research and is usually a key component in many research papers. Many students may not know exactly how to start or what steps are involved, hence the Library has prepared a new guide aiming to assist students in conducting literature reviews. Explore the guide to learn more!
Conduct a Literature Review
The guide walks you through the 5 essential parts and you will learn how to:
Select & evaluate sources: learn what scholarly and popular sources are and strategies to evaluate these sources;
Search literature effectively: learn the difference between searching Google and searching Library resources, and how to build an effective search statement;
Get full text: learn efficient ways to get full-text especially when off campus, and how to request items that are not available in the Library;
Read articles strategically: learn how a journal article is composed of, and how to read articles strategically;
Cite sources: learn what citation and citation styles are and how to make citations in different styles.