More Self-check Services and Facilities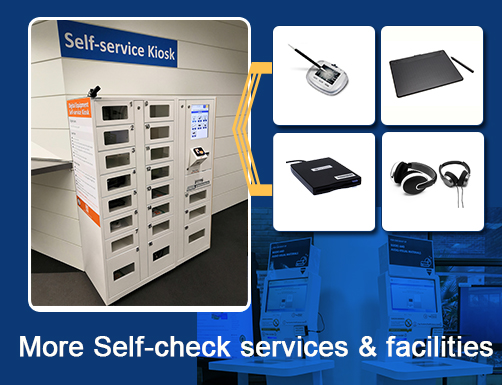 January 18, 2021
The Library has implemented the following arrangements to streamline the overall loan and return services and to enhance self-service experience in borrowing and returning digital equipment including notebook c

omputers, 360 cameras, drawing tablets and headphones.
Returning Digital Devices via Self-service Kiosk at i-Space


From now on, PolyU/CPCE students and staff can make use of the Self-service Kiosk at i-Space, 4/F North Wing, not only to borrow but also return loanable laptop computers, 3D scanner and 360 camera.  Instead of waiting in line at the Technical Support Desk for Library staff to do the check-in, eligible users with valid Library card can follow simple on-screen instructions of the Self-service Kiosk to return the digital items by themselves. For more information and detailed instructions, please visit here.
Please note that this self-service is not applicable to digital devices of Internet of Things (IoT) including Raspberry Pi and Arduino development kit.  Please contact Technical Support Desk to check out IoT digital devices.  You can meet our i-Space staff by making an appointment of consultation session if necessary.
New Self-service Kiosk for AV accessories in Multimedia Commons, 3/F

A new Self-service Kiosk has been set up in the Multimedia Commons at 3/F North Wing. PolyU/CPCE students and staff can check out or check in AV accessories such as headphones and drawing tablets there.


Additional Self-checkout station on P/F

To streamline the overall loan and return services, with effect from 4 Jan 2021, users can borrow and return both books and audio-visual (AV) items at the Loan and Return Counter on the Library Podium Floor.  The Multimedia Commons Counter on 3/F was closed on the same day. Users can still get access to the AV collections in their existing locations in Multimedia Commons on 3/F. To enable users to conveniently check out AV items and books before they leave the Library, an additional self-checkout station has been relocated from Multimedia Commons to the area near the Library Exit.