One-stop Portal for the Digital Collections in the Library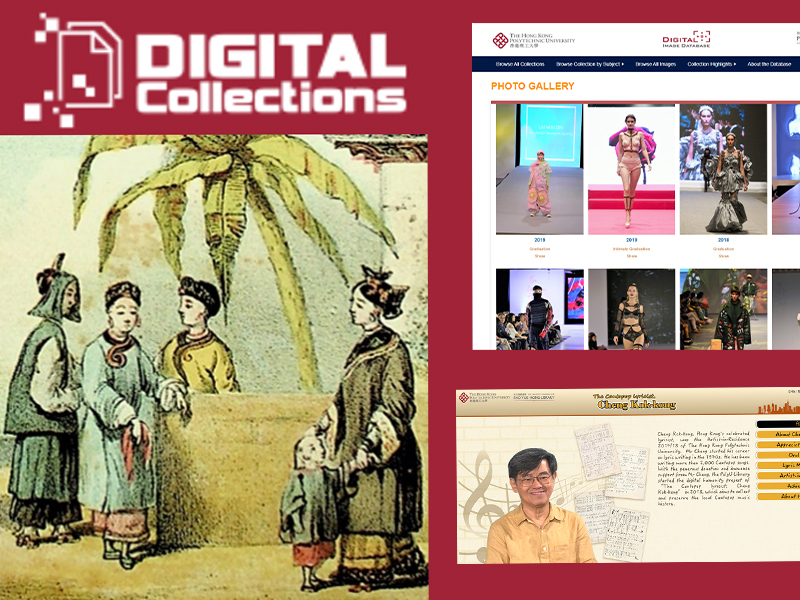 September 11, 2020
Students, faculty, scholars, and the general public now can get access to the digital collections, and other featured thematic collections relevant to the PolyU community freely anytime and anywhere to support teaching, learning and research.
Special Collections are usually irreplaceable and have significant research and cultural values.  The Library has been digitizing the Library's rare books on China and East Asia, which were mainly published in western countries before 1922.  These digitized rare books give users a glimpse of the Chinese and East Asian cultures and histories in western eyes between 18th and early 20th century. Currently, over 70,000 full-text/graphic images were digitized from over 200 rare books titles on China and East Asia.
Subject Coverage:
History, Religions & Missionary, Social Life and Customs, Travel, Statistics, Language & Literature, Art
Cheng Kok-kong, Hong Kong's celebrated lyricist, was Artist-in-Residence 2017/18 of the PolyU. The Library has digitized handwritten lyric manuscripts written by Cheng Kok-kong plus recording of the oral history interview with him at PolyU Library. These collections contain more than 110 lyric manuscripts and about 3-hour of the oral history video interview. Meanwhile, from the dedicated website, you can get more in-depth information, including Cheng Kok-kong's background, achievements, and appreciation of his lyrics.

Subject Coverage:
Popular music, Children's songs, Television & Motion picture music, Topical songs,
Lyricists in Hong Kong, Lyric Writing, Copyright for Music
This is a unique collection that gathers the photos of Institute of Textiles and Clothing (ITC)'s graduation shows since 2016. You can browse through the designer's works in the fashion shows at a glance and navigate each piece of creation by the same designer that you are interested in at ease. Through the zoom-in function, you will be able to explore the details of fashion design like ruffles, embroidery, embellishment, texture, layering, weaving and more from the photos and get design inspiration.Subject Coverage:
Clothing and dress, Knitwear, Intimate, Fashion shows