Join us – Virtual Library Orientation for Freshmen!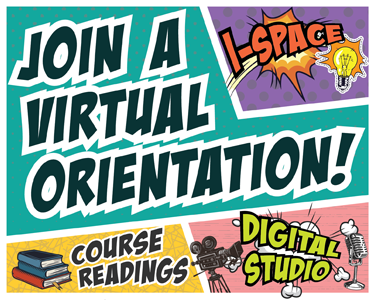 September 11, 2020
Virtual Library Orientation


The Library has organised 10 Virtual Library Orientation sessions from 31 August to 15 September 2020 that all students can sign up for!  Whether you are starting an undergraduate or postgraduate programme, the Library has an orientation session catered for you. In each online orientation session, friendly librarians will introduce the wide range of services and facilities at the Library – from quiet study and group work spaces, course readings and textbooks, to the various emerging technologies such as video recording studios and 3D printing services, available for you to explore.Check out the schedule and register here!
Highlighting all relevant information useful to new incoming students, this Library Guide for Freshmen is the best starting point – from services to space and collections essential to students. Make sure to bookmark this useful guide to locate different study spaces that suit different learning needs, find a desktop computer with special software installed and learn about the Library collection.
Can't wait to visit the Library? Experience it through VR! Try for yourself our easy-to-navigate VR tour of the Library.