New Online Library Courses @ Blackboard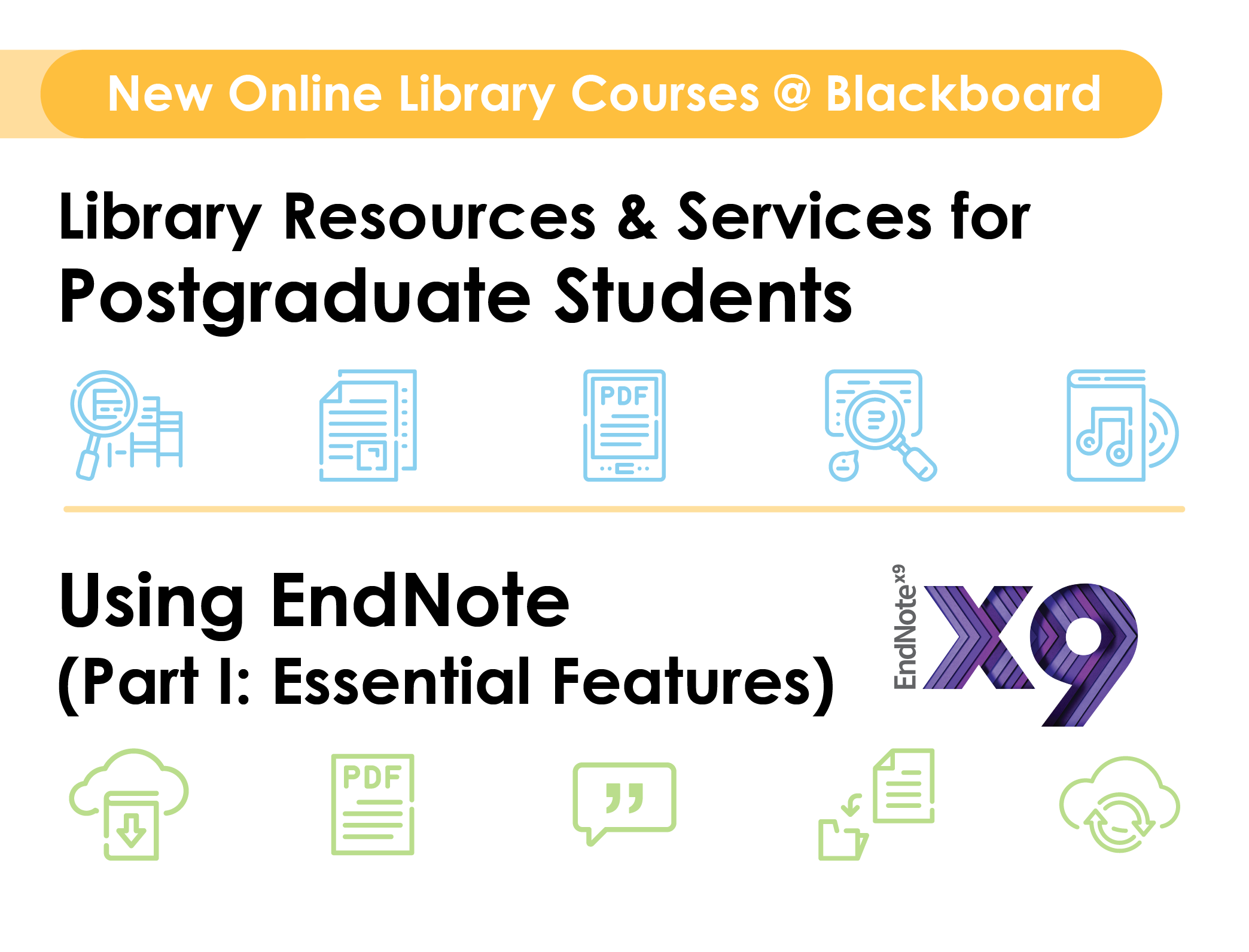 June 1, 2020
Our regular Library workshops could not be conducted when all face-to-face learning and teaching activities were suspended on campus. Hence, the Librarians had to explore new ways to deliver workshop contents virtually. TWO new Library courses on Learn@PolyU have thus been developed this semester. Each of these online courses aims to allow enrolled students and staff to achieve the same learning outcomes as related face-to-face workshops after being adapted to be delivered in an online environment.
Library Resources and Services for Postgraduate Students
This online course, consisting of six modules, is tailor-made for postgraduate students to get familiar with library services and resources for their learning and research. It aims at helping postgraduate students utilize Library services and resources available in and beyond PolyU Library.
View detailed course description and enroll HERE.
Using EndNote (Part I: Essential Features)
This course is designed for students and staff to help you get familiar with Endnote. Endnote is a reference management tool for citing and organising references in your learning and research. The course will help you learn the key features about EndNote, including how to insert references from different sources and how to easily cite references in Word document.
View detailed course description and enroll HERE.
Since their launch in February 2020, over 550 students and staff have enrolled in the two online courses. So far, feedback received suggested that the two courses have helped PolyU students and staff acquire skills and knowledge useful for their learning and research. Respectively, 81% and 100% of those enrolled in the Endnote course and postgraduate student course have agreed or strongly agreed that the course aided learning and research in their own disciplines. With such positive response, we aim to run Webinars and also release more online courses for our users in the near future.
Our Librarians also provide individualized assistance to students and staff requiring help with discipline related information resources or even assistance with EndNote. If students and staff would like to know more about a particular topic covered in our online courses or have specialised needs, we welcome you to schedule an online consultation session with librarian subject specialists.