HIGHLIGHTS

LibQUAL+™ 2011 Survey @ PolyU - Summary of Results

| | |
| --- | --- |
| The Hong Kong Polytechnic University Library conducted its second LibQUAL+™ survey from 1 Nov to 5 Dec 2011, together with five other UGC funded university Libraries (JULAC Libraries) in Hong Kong.  A total of 3,439 valid responses and 1,481 comments were received. Below is a brief summary. | |

The survey consisted of 22 core questions, where users were asked to rate, on a 9-point Likert scale (1=lowest, 9-highest) on the following three dimensions:

Affect of Service
(i.e. how well library staff are delivering their services)
Information Control
(i.e. Library collections, physical and electronic, and tools to access them)
Library as Place
(i.e. Library building, equipment and facilities)
Perceived Level of Services – How users believe the Library is performing?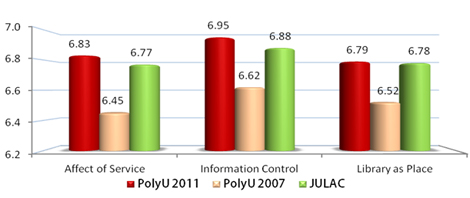 Compared with survey results in 2007, we see an overall improvement over time. PolyU scores are above the average JULAC scores.  Information Control was rated as the dimension with the highest perceived level of services, followed by Affect of Services. Library as Place has the lowest perceived level of services.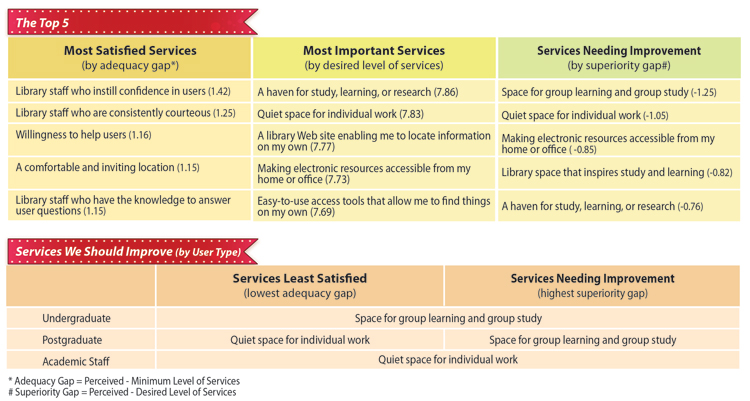 General Satisfaction
There are three questions related to the level of general satisfaction on library services. Most mean scores in 2011 exceed those in 2007 by around 5%. In all questions, postgraduates are consistently more satisfied (average score=7.39), followed by Academic Staff (7.24) and undergraduates (6.99).
Written Comments & Survey Details
For a digest of the comments received, our responses and planned actions to address issues identified, and other survey analysis, please refer to the Executive Summary. The complete report can be viewed here.
Knit On – The Contemporary Knitwear Fashion Exhibition by Judyanna Ng , ITC (2 – 29 Mar 2012)

This exhibition showcased four collections of a highly successful designer and educator – Dr. Judyanna Ng, Senior Lecturer of the Institute of Textiles and Clothing.  Each collection had its own theme and had been showcased at the annual 'Knitwear Symphony' fashion show during the Hong Kong Fashion Week since 2009, as well as the SpinExpo New York in 2009 and 2010.
10th Anniversary Photo Exhibition by PolyU Student Hall  - One Hall One Family (8 – 29 Feb 2012)

Celebrating the 10th Anniversary of PolyU Student Halls, the exhibition was a welcoming one with lots of visitors placing their wishes on the wishing tree!





Dialogue Cafes (10 Feb 2012)

Organized by the 4 PolyU student societies, namely PolyU Student Union (SU), AIESEC-PolyU, Chinese Mainland Student Association (CMSA) and International Student Association (ISA), it invited participants to discuss on a topic of "Global Citizens".   Invited guests included Consul General of Africa, Executive Director of Canadian Chamber of Commerce, Prof. Timothy Tong, Prof. Judy Tsui, Prof. Mark Williams and Prof. Keith Chan.




"A Journey of HOPE" Photo Exhibition (30 Apr – 13 May 2012): Presented by CMAO, this photo journey exhibition is a remembrance of the 4th Anniversary of the Wenchuan Earthquake which had caused unprecedented damages in the Sichuan Province on 12 May 2008. Through a series of discussion, video preview and exhibition featuring photos taken by young survivors in the aftermath of the disaster, viewers are encouraged to reflect their roles in the tragedy and the meaning of life. Upholding the spirit of "PolyU Serve" highlighted in the PolyU 75th Anniversary Celebration, this exhibition also documented assistance given by PolyU staff and students during reconstruction in the past 4 years.



"Here and Now" Photo Exhibition (16 May - 12 Jun 2012):Jointly presented by ITC, Tung Wah Group of Hospitals and the Rotary Club of Peninsula, this exhibition will showcase the photos from the "Here & Now" Photography Competition organized by the Radio-I-Care, a mental health web radio in Hong Kong. PolyU students, graduates and staff from the Higher Diploma in Multimedia Design & Technology (HDMM) and Higher Diploma in Product Innovation Technologies (HDPIT) had made great contributions to this project. The exhibition aims at encouraging the audience to reflect themselves on the importance of "Here & Now".

Watch out for further announcement!




The JULAC forum was held on 23 Feb 2012 at the Lingnan University for staff of the JULAC Libraries. This year's theme was "3+3+4 The Countdown". Our Acting University Librarian, Ms Lisa Kwan and Systems Librarian, Mr Alan Ng, delivered a talk on OneSearch: The Discovery Path of PolyU Library and Section Head of Information Services, Ms Susanna Tsang, gave a talk on Research Enhancement Centre (REC) of the Pao Yue-kong Library.

From left to right: Ms Lisa Kwan, Mr Alan Ng & Ms Susanna Tsang