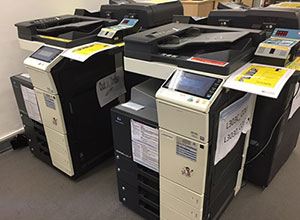 Colour printers/copiers are available in the following locations for making printouts and copies up to A3 size. Users can print from these colour printers from any Library PC in the area or from their USB thumbdrives at FAT32 Standard.
Multimedia Commons (3/F)
Research Enhancement Centre (3/F)
For assistance in using the printers, please contact Technical Support Desk (4/F) in i-Space or call 2766-6909. For printing in A2 size or bigger, please refer to Large Format Printing and Scanning or request at the Technical Support Desk.
Locations and Features of Colour Printers/Copiers in Library
Floor
Location
Copier/ Printer Name
Colour Printing
Colour Copying
B&W Printing
B&W Copying
Printing from USB Thumb Drive
(FAT32 only)
3/F
Research Enhancement Centre
L301C
✔
✔
✔
✔
✔
L301D
✔
✔
✔
✔
✔
Multimedia Commons
L303R
✔
✔
✔
✔
✔
L303S
✔
✔
✔
✔
✔
User Guides:
Charges
Please refer to the Price List for service charges.
Copyright Warning to Photocopier Users