Multi-purpose PC Workstations
The Library provides over 400 PC workstations on various floors for users. All public PCs are installed with MS Office applications while some are also equipped with Adobe graphic applications.
Graphic Computers
To support users on graphic and multimedia production, the following PC workstations and Macintosh computers have Adobe graphic software installed in addition to MS Office applications. All of them are available for online reservation via iBooking.
2 PCs in 3/F Research Enhancement Centre (REC)
15 PCs in 3/F Multimedia Commons (MC)
8 iMac computers in 3/F Multimedia Commons (MC)
21 MacBook Pro in 3/F Multimedia Commons IT Lounge (MC IT Lounge)
Other Computers Available for Online Reservation
8 PCs on P/F
23 PCs in 3/F REC
8 database workstations in 3/F REC
31 PCs in 4/F i-Space
Please log into the iBooking system to book a computer.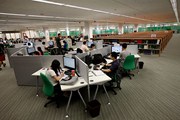 PC Login
All public PCs in the Library, except guest PCs, require users to login with their NetID and NetPassword before use. PC workstations will automatically logout after an idle period of 15 minutes.
69 PCs requiring PC logins are also available in the Learning Lab 1 & 2 on 3/F Research Enhancement Centre. They are available for use when the Labs are not occupied for Library events. Please refer to the Room Schedule for availability and opening hours.
21 PCs requiring PC logins are available in 3/F IT Lounge (Multimedia Commons). They will be available when the room is not occupied for Library events.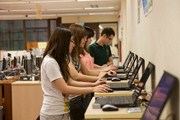 Guest PCs in the form of stand-up workstations are available for quick information search on Podium Floor, in 3/F Research Enhancement Centre and 3/F Multimedia Commons lobby area.
Software/browsers in Public PCs
User can find out the software and browsers installed in Library Public PCs when needed.
vSCC software
Virtual Student Computer Centre (vSCC) is one of the University's initiatives to support digital work spaces that meet the smarter, more agile and anytime anywhere work practices of the PolyU community. Users will be able to access to a variety of the OS and software. Users could visit the vSCC software list to view the software provided.