Research Carrel Naming Opportunities
Thousands of students and staff members visit us every day to use our 2.4 million resources, access to the internet, find a place for individual study or simply to enjoy a quiet time. Last year that translated into 2.7 million in-person and 7.2 million online visits!
To fulfill its mission of being the University Learning Hub, we had completed the Revitalization Project (Phase 1) in 2010, which added to it over 80 newly renovated, self-check-in research carrels in the Research Enhancement Centre located on 3/F of the Library. Eligible library users can book the research carrels for private study and doing research work.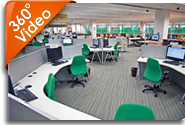 Support Us by Naming a Research Carrel
While we get most of our funding from the Government for our daily operations, we are dependent on generous support from individuals and corporations to make all these possible. A research carrel will be named after the donor who donates a sum of HK$100,000 for the Library.  Donation received will be used to strengthen our collections and facilities for the benefit of over 23,000 students at PolyU, as well as the whole community.  As a token of thanks, a door plate carved with donor's name will be erected on the designated carrel.
Enquiry
Please leave your contact details or contact us at 2766 6894. Thank you for your generosity that allows us to reshape the future of our PolyU Library.