Acquisitions Services
To recommend a purchase, PolyU staff and students may use the appropriate online New Materials Recommendation forms on the Library Homepage or email to the Acquisitions Team directly at lbacq@polyu.edu.hk or by telephone 2766-7825.
In order to ensure that textbooks, essential, required and other recommended readings are available in the Library for students at the beginning of each academic year, the Library will send emails to remind staff to submit their Textbook and Recommended Reading Lists for ordering books to be placed in the Book Collection and Reserve Books Collection.
Guidelines for acquisition and allocation of multiple copies.
Gifts & Donations
As a general rule, the University Library will not accept gifts or donations with restrictions or conditions as to their disposition, handling, and use of the items donated except by express permission of the University Librarian. To send gifts of books, journals, audio-visual materials, and other resources to the University Library, please follow the procedure in the donation of books and print materials.
Donations to the Library are accepted through the Honour with Books 卷軸流芳 programme. Donors are also welcome to contact the Library for details of other donation programmes. Enquiries should be sent to lbacq@polyu.edu.hk.
Serials Evaluation
To maintain a well-used Serials Collection, we routinely monitor the usage of journal titles and databases under Library subscription. Those resources with low use, a high cost per use, or duplication with other sources will be identified for review and potential cancellation after consultations with Faculty Librarians and Academic Staff.
Deselection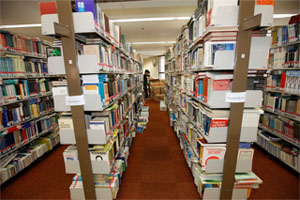 In order to maintain a current and relevant collection, the Library conducts ongoing deselecting exercises to remove outdated, obsolete, or worn out books, or books that no longer meet the needs of the PolyU academic and reading community. This allows the Library collection to evolve and continue to meet the teaching, learning, and research needs on campus.
The current deselecting exercise is conducted in June 2022.
Books that meet the following criteria will be identified for deselecting:
Low use books not checked out after 2016, AND
Older titles acquired before 2013, AND
Low use books that are one of multiple copies, and/or with an accompanying e-book, AND
Excluding those course reserve books and PolyU authored publications.
To ensure that the selected materials are no longer required by the PolyU academic community, academic staff members are invited to review the titles selected for withdrawal before being disposed of. For further information or enquiries, please email the Collection Development Librarian, Ms Mei Li, at lbmeili@polyu.edu.hk or by telephone 2766-6699.
Updated in June 2022