Acquisitions Services
To recommend a purchase, PolyU staff and students may use the appropriate online New Materials Recommendation forms on the Library Homepage or email to the Acquisitions Team directly at lbacq@polyu.edu.hk or by telephone 2766-7825.
In order to ensure that textbooks, essential, required and other recommended readings are available in the Library for students at the beginning of each academic year, the Library will send emails to remind staff to submit their Textbook and Recommended Reading Lists for ordering books to be placed in the Book Collection and Reserve Books Collection.
Guidelines for acquisition and allocation of multiple copies.
Gifts & Donations
As a general rule, the University Library will not accept gifts or donations with restrictions or conditions as to their disposition, handling, and use of the items donated except by express permission of the University Librarian. To send gifts of books, journals, audio-visual materials, and other resources to the University Library, please follow the procedure in the donation e-form.
Donations to the Library are accepted through the Honour with Books 卷軸流芳 programme. Donors are also welcome to contact the Library for details of other donation programmes. Enquiries should be sent to lbacq@polyu.edu.hk
Serials Collection Evaluation
According to budget constraint, we carefully analyzed the usage statistics of over 3000 journals titles, and cancelled 280 journal titles in 2009. Additional 105 low-use journal titles were cancelled in 2010. This was performed with academic staff support and efforts through many departmental consultation meetings. Here is the Journals and Databases Cancellation List in 2009/10 & 2010/11.
Weeding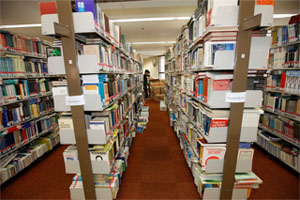 To make the best use of Library space and to keep our collections current for our staff and students, the Library conducts weeding exercises on a regular basis to remove outdated, obsolete, worn-out or no longer required books from the Library Collection.
The weeding exercise conducted in March 2010, circulation books with multiple copies and/or zero/low usage with class nos. H (Social Sciences), J (Political Science) and K (Law) and published prior to or in 1999 were selected for weeding. Another similar weeding exercise was conducted in April 2011. All classes of circulation books with multiple copies with low usage and published prior to or in 2000 had been selected for review, with the proviso that at least one copy would be retained in the Library. These weeding exercises also reduced older less relevant materials ready for the infusion of new 3-3-4 materials.